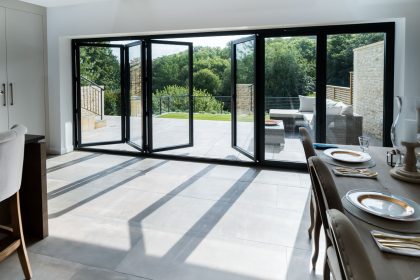 We have years of experience installing high quality aluminium bifold doors into homes around the Bracknell region. High performance and made to measure this range of concertina doors deliver on both form and functionality.
Available in a selection of fold configurations, our Smarts Visofold 1000 line of aluminium bifold doors are all rounders. You have control over how they look and form, adaptable for modern and traditional Bracknell homes alike.
Aluminium bifold doors are a versatile addition to a home but are commonly used to connect conservatories, extensions, orangeries to gardens, patios and decking areas. These days can create a seamless transition from inside and outside, ideal for homeowners who love to entertain in their outdoors space.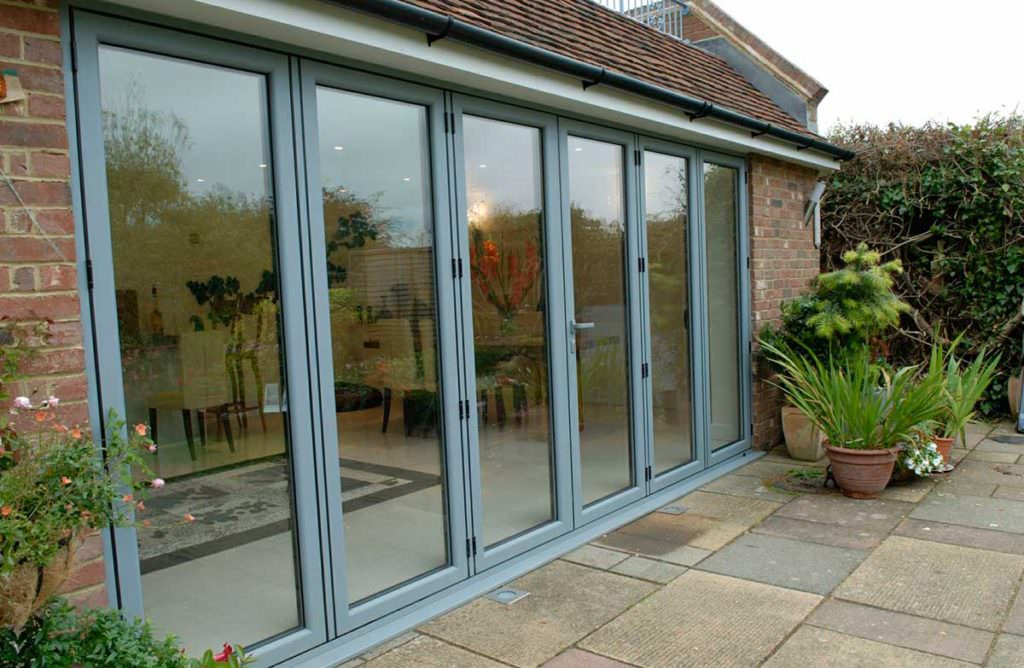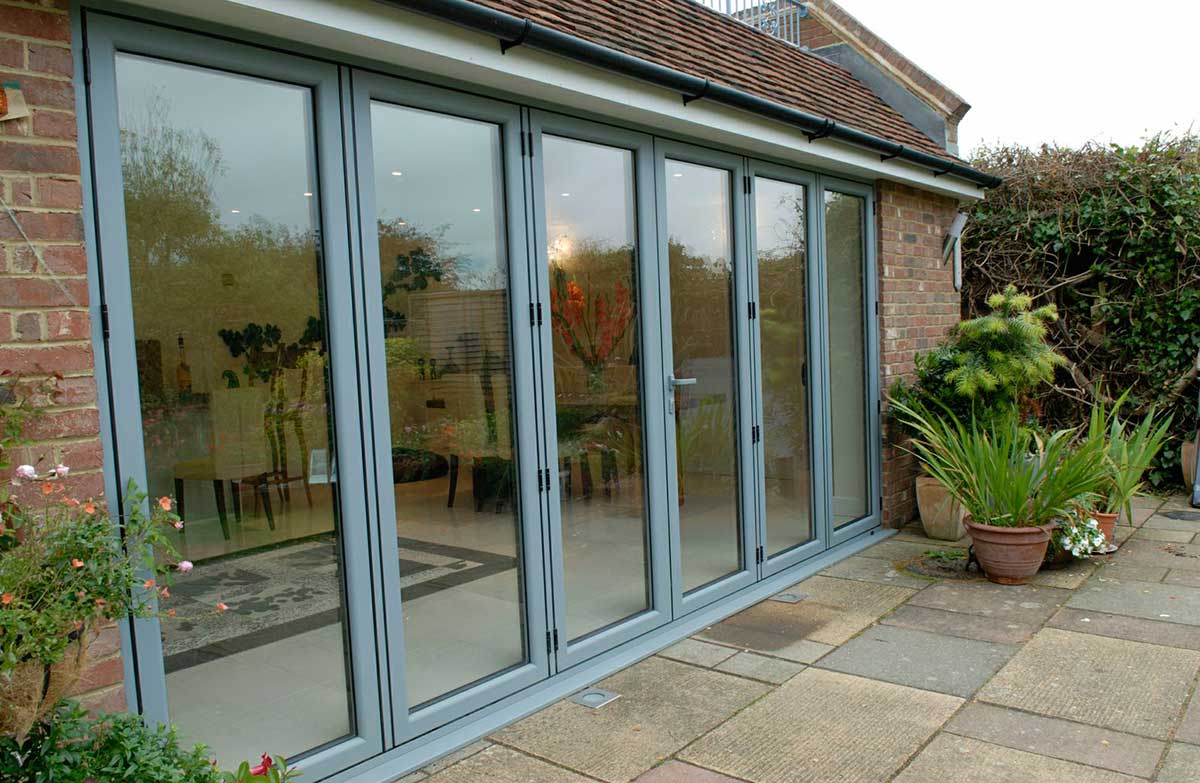 Highly Secure Aluminium Bifold Doors Bracknell
Because security is a priority to a homeowner, we offer a range of secure aluminium bifold doors for Bracknell homes. Keep your home and loved ones protected from adverse weather conditions and unwelcome intruders.
The aluminium bifold doors that we install come with premium multi point locking mechanisms as standard on all the main opening sashes. This component is then enhanced even further with shoo bolt locks on the floating mullions.
The innovative locking mechanisms when combined with the inherent strength of aluminium, offer an outstandingly secure design that is sure to protect any home in the Bracknell area.
Thermally Efficient Installations
Our aluminium bifold doors are thermally efficient to help make running your Bracknell home more cost efficient. Aluminium is inherently good at helping a space retain heat, keeping your home comfortable all year round.
These bifold doors are ideal for trapping heat into a property during the cold winter, which could reduce your energy bills greatly. Homeowners will be able to save money and reduce their carbon footprints when installing our aluminium profiles.
Energy emissions can also be minimised by the fact that our Smart aluminium bifold doors let natural light to flood and illuminate any room in the home. This means you will need less artificial light to brighten a room, creating a warm and welcoming environment inside a home.
These doors also feature a polyamide thermal break which works to improve the general thermal efficiency as well as enhancing the U-values. With market leading wind and water resistance as well as air permeability, aluminium bifold doors are a fantastic investment for any home.
All our aluminium profiles feature EPDM high-quality gaskets and innovative weather brushes which help to keep the bad weather conditions out.
Aluminium bifold doors work to ensure that no condensation will build up internally, reducing the risk of the build up of mould. To improve the weather resistance of your new profile there are also rebated thresholds.
Aluminium bifold doors can effortlessly open up an entire wall of a room, bringing panoramic views and an influx of natural light. Despite this expansive wall of double glazing, the thermal efficiency of security of a space will not be compromised.
We can adapt your new aluminium bifold door to suit your property. Affordable Windows and Construction Ltd offers a broad range of fold configurations to suit every property in your local area. Slide your new bifold doors from right to left, or left to right, opening in the middle or one end. These concertina doors are truly customised to suit your existing architecture, personal preferences and lifestyle needs.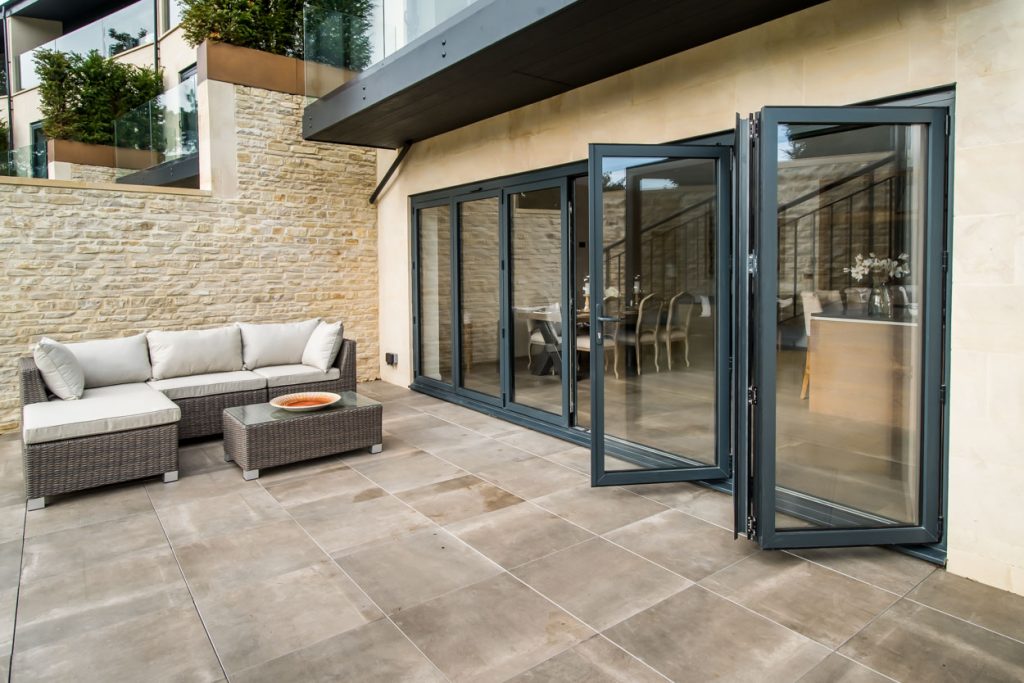 Bespoke Door Installations
Enjoy a bespoke installation for your home. Every door we install is made to measure, ensuring you get exactly the right door for your home. We offer a broad array of designs, colours, features and finishes.
Choose a bold design that stands out in the market or pick something more subdued that seamlessly blends into your existing architecture. Get in touch today to learn more about the many customisation options we offer our homeowners.
Our range of aluminium bifold doors can also come with a low threshold option. This can also be ideal for homeowners who would like easier access to their garden and outdoor space.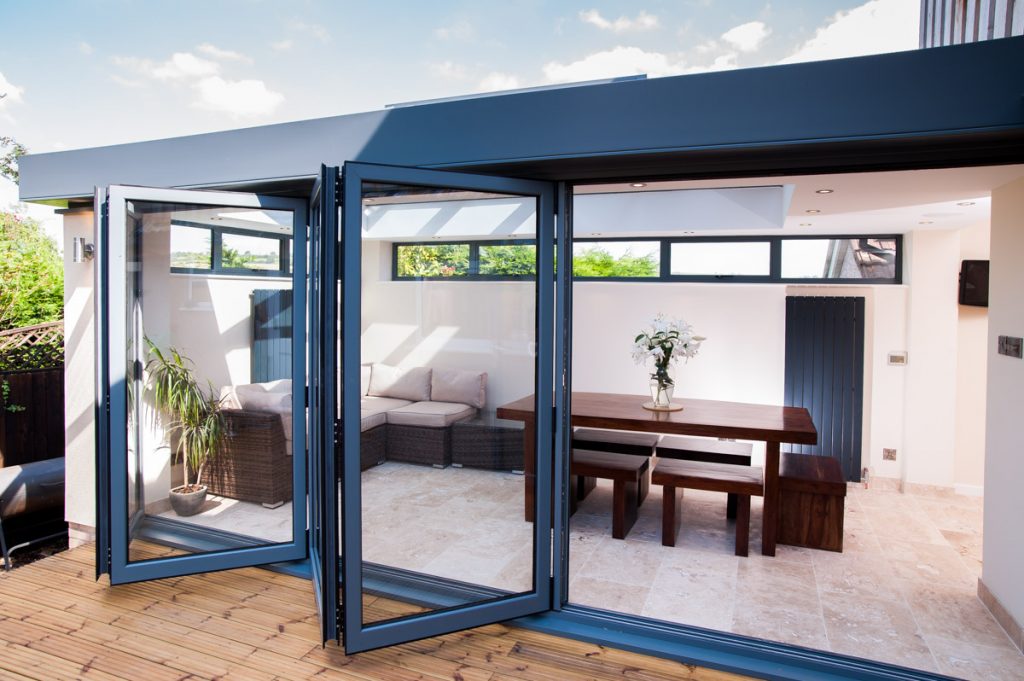 Aluminium Bifold Door Prices Bracknell
Use our innovative and helpful online quoting engine to get a bespoke price on our range of aluminium bifold doors. It's easy to use and works on all devices, offering prices tailored to your specifications.
Alternatively, get in touch with us on 01628 668577 or use our online contact form. Our friendly use knowledgeable team will be on hand to help you get the best installation for your home, answer any queries and offering impartial guidance.