Thursday, 06 October 2022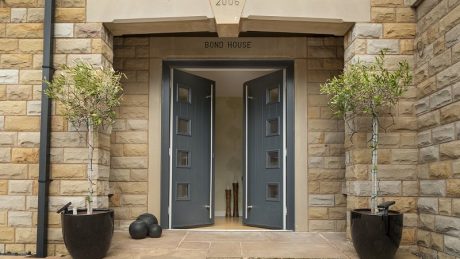 Our composite door options in Gerrards Cross are among the best in the area, and they won't break the bank, either. The doors are remarkable because they hold up well under pressure and protect you from intruders. Your front door will be the first thing guests see when you come home, so it's important to get one that not only looks great but also provides current security measures.
---
Anatomy of Our Doors
Door Slab
Metsä Wood's Kerto® laminated veneer lumbar (LVL) slab is made from multiple timber veneers that are cross-bonded together to form a single uniform structure.  This one-of-a-kind design provides unrivalled rigidity, strength, and dimensional stability.
Door Skin
You can customise the skin of every door we offer to truly create your dream door solution. The GRP skin is imbued with the colour, so you will never have to repaint or varnish it. The doors are available in 16 different colours, so you are sure to find something to suit your style.
Insulating Glass Unit
The glass panel within the door design is created from 28mm double glazing as standard. This can come in a range of 33 customisable designs for you to choose between.
Glazing Cassette
The tough, through-color ABS glazing cassette system has been individually security tested, while allowing glazed units to be easily replaced if any become damaged.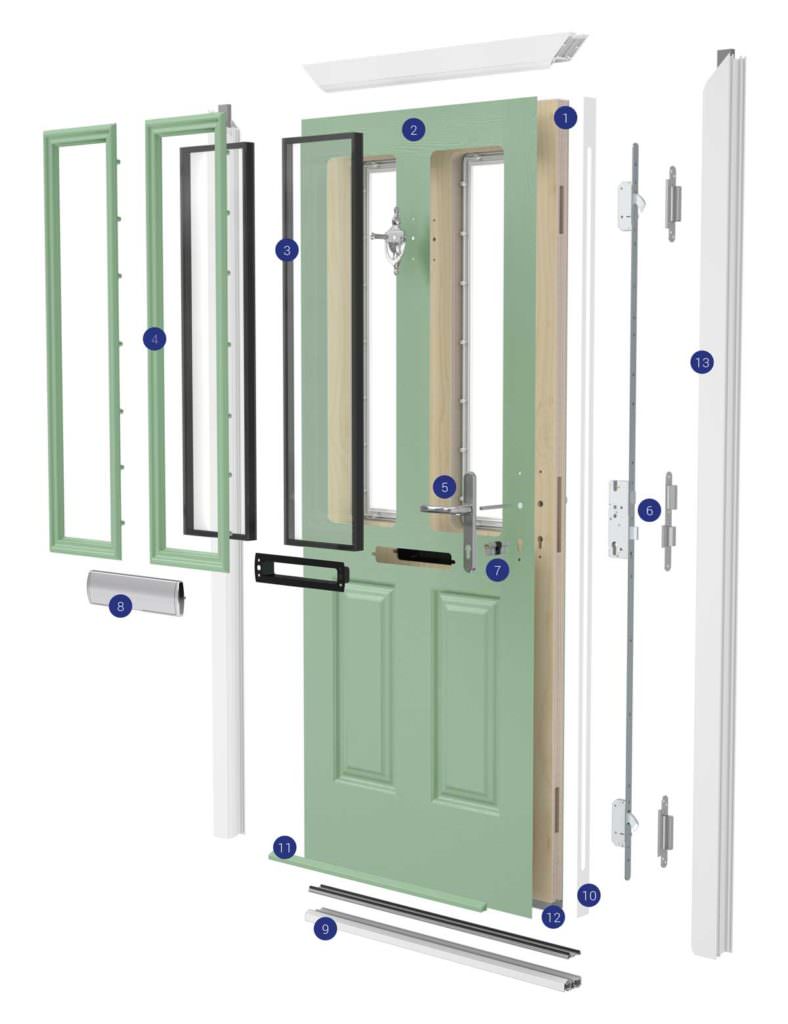 ---
---
Door Furniture
Whether you're looking for a pull handle bar or a door knob, you'll find it among our 8 different designs.
Multi Point Locking Systems
Our robust security technology is a formidable barrier to the most cunning of possible intruders. They have all been put through rigorous testing to the meet BS 8529/ PAS 24 security standards and have been awarded accreditation by Secured by Design.
Cylinder
We have the most secure cylinders available, which will prevent drilling and lock picking. Any would-be trespassers will be unsuccessful in breaking into your house.
Letterplate
Our Prostyle letterplate offers a wide variety of customization possibilities thanks to its six available styles. Handmade designs are also a great option for adding a period-appropriate touch to your property.
Threshold
You can even add an optional aluminium threshold for easier access for wheelchairs and pushchairs.
Edge Bending
Because our door slabs have a 1.3mm thick edge that can be used on all sides, they are completely sealed.
Weather Bar
Weather bars on open-in doors deflect water away from the face of the door during rainfall, reducing the amount of water passing through the door's internal drainage system.
RockFoam
Every door has a rigid section of blown PVC inserted into the bottom, creating an effective barrier that inhibits moisture absorption, preventing the door from warping or bowing over its lifetime.
Door Frame
Liniar's six chamber EnergyPlus profile is used in the door frame, helping to make your home more thermally efficient.
Composite Front Doors
When your Gerrards Cross home needs a new front door, choose a composite front door from Affordable Windows. We supply and install market leading composite door profiles from established manufacturers Door Stop, Solidor and Endurance.
Door Stop Composite Doors
Our selection of Door Stop composite doors, which includes the Long Bar suite, the Bow Handle suite, and the Classic suite, is sure to be the focal point of any home. There is something out there for you and your new front door, with a variety of styles and colours to choose from. They are cost-effective in the sense that they reduce the amount of heat required to maintain a given temperature, meaning you can lower your energy bills.
Solidor Composite Doors
Endurance Composite Doors are also available from us. There is a wide variety of designs available, from Classic, Country, to Urban. They are constructed with a sturdy timber core. In addition, they are available in a wide variety of hues and hardware configurations, simplifying the process of finding your perfect front door for your Gerrards Cross home.
Endurance Composite Doors
We also supply composite doors by Endurance. These come in plenty of different styles  such as Classic, Country, and Urban. They also include a solid timber core. They also come in a range of different colours and hardware options, helping you make searching for your front door as easy as possible.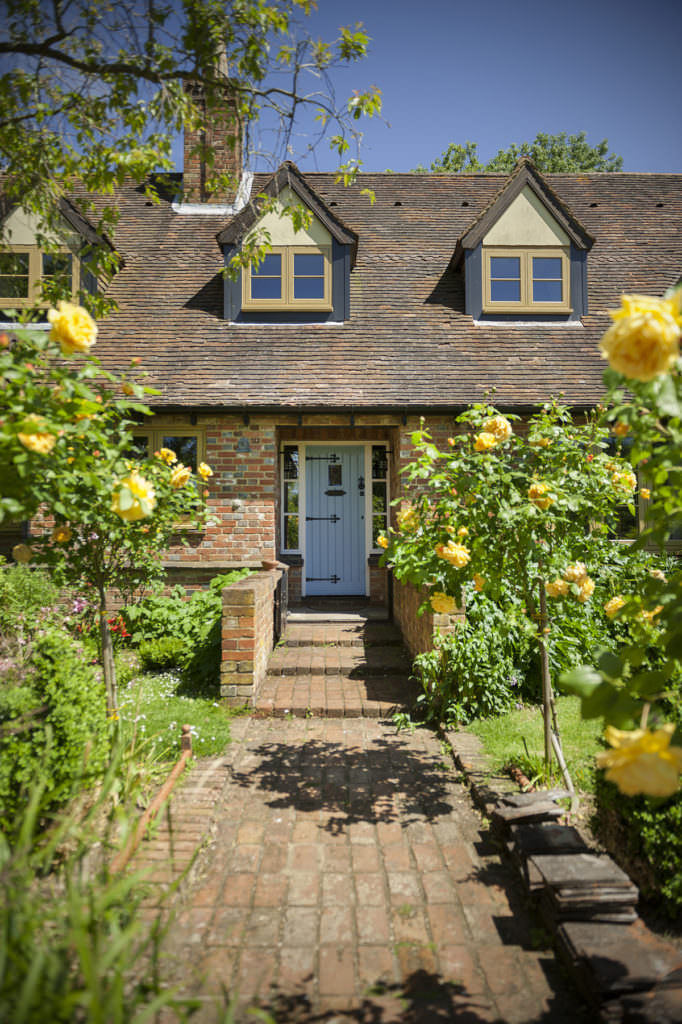 Highly Secure
Whatever composite door you choose for your Gerrards Cross home, you can be confident that you'll benefit from a tough and resilient entrance solution. Our doors will protect you from both intruders and bad weather.
Stylish Aesthetics
All of our composite doors have stylish aesthetics which will help your home look fantastic. They come in a diverse selection of colours and accessories so you have an abundance of choices.  They are very secure as well because they come with Ultion locking systems, leading to maximum security.
Composite Doors Prices Gerrards Cross
When you have decided on your dream composite door for your Gerrards Cross property get in touch with Affordable Windows. Use our online quoting engine to create your ideal door and we'll get you a bespoke price tailored to your specifications.
You can also contact us directly on 01628 668577, or even through our online contact form. Our friendly team will get back to you as soon as they can.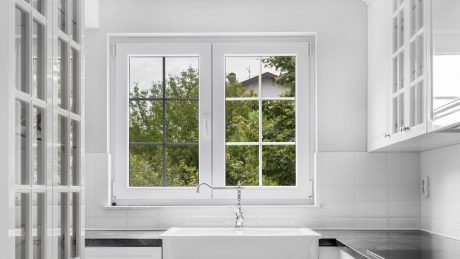 When you are considering the rising cost of living, there are many reasons why your home should be more energy efficient. At Affordable, we sell many different products that will help reduce your carbon footprint and save the environment.
At Affordable, we understand how the cost of living crisis will affect many homeowners. As prices soar across the UK, food and fuel prices, have risen by around 9.4%. This has resulted in plenty of people cancelling subscription services such as Netflix and Amazon Prime. Energy prices have also risen sharply as well. For instance, Ofcom Chief Executive Jonathan Bearley said energy prices would rise to £2,800 a year from October. A significant reason for this price increase is because of the war in Ukraine, which has seen energy prices rise by £700 since October 2021.
The effect of rising energy prices is a potential heat catastrophe in the winter because those most at risk are the vulnerable. The National Energy Action Charity predicts that "millions of people will simply not be able to heat their homes this winter. We will see serious ill health and susceptible deaths from the cold."
The government is taking measures to support households who are struggling with their bills. For example, they are offering a £650 payment to 8 million people in low income households.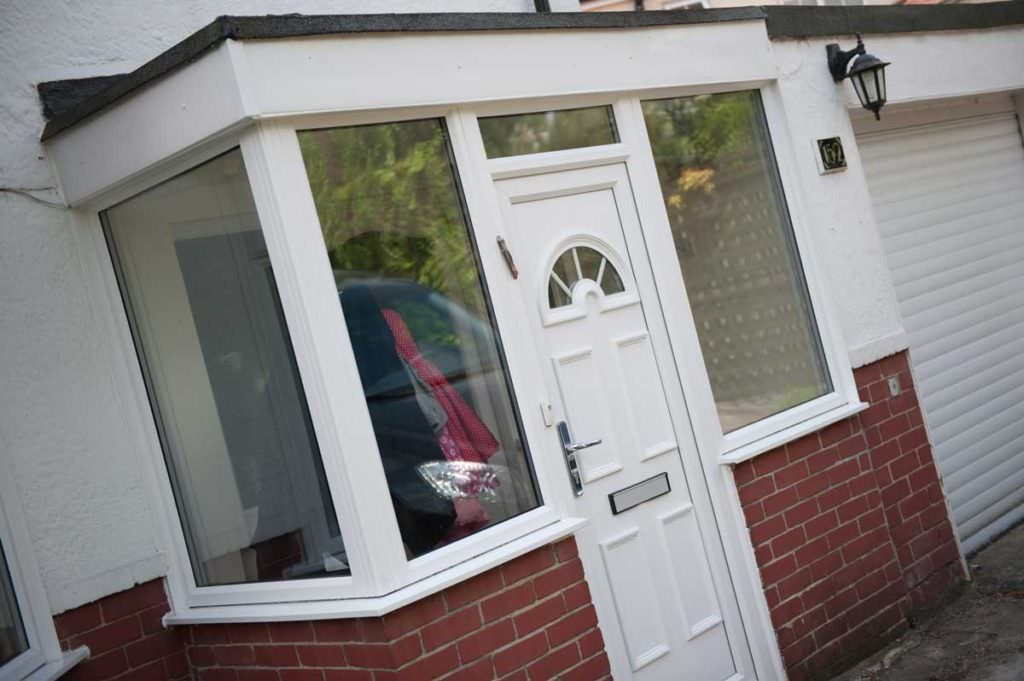 As a result of this, it has never been more important to reduce your energy bills because it will help you free up your finances and save you money. One of the key ways to do this is invest in double glazing, which will benefit you and your home long term. Double glazing will give you and your home better sound and heat insulation, which will retain natural heat, so you will save plenty of money on your energy bills.
We sell a selection of double glazing products at cheap and affordable prices. The products that include this consist of bifold doors, aluminium and uPVC windows, and entrance doors. Double glazing consists of two thick panes of glass which will keep natural heat indoors and cold air out. But that's not all, because double glazing will let natural light into your home, giving off a welcoming and positive space for you and your family.
Our aluminium windows are fantastic insulators of heat because the double glazing that is included consists of a thermally broken frame and a polyamide bridge, which will help keep your home warmer all year round and reduce heat loss much easier. They are very thermally efficient, which keeps your home warm and comfortable in the long run.
We even offer double glazing in our conservatories as well, which enhances your home's living space. It will bring plenty of natural light into your home and keep it warmer, letting in plenty of natural light and keeping the cold air out. These conservatories are available in a wide range of styles, including Lean to Conservatories and Victorian Conservatories, so you will be able to customise your space easily. What's more, with multi point locking systems and advanced shootbolt techniques, your home will be safe from intruders.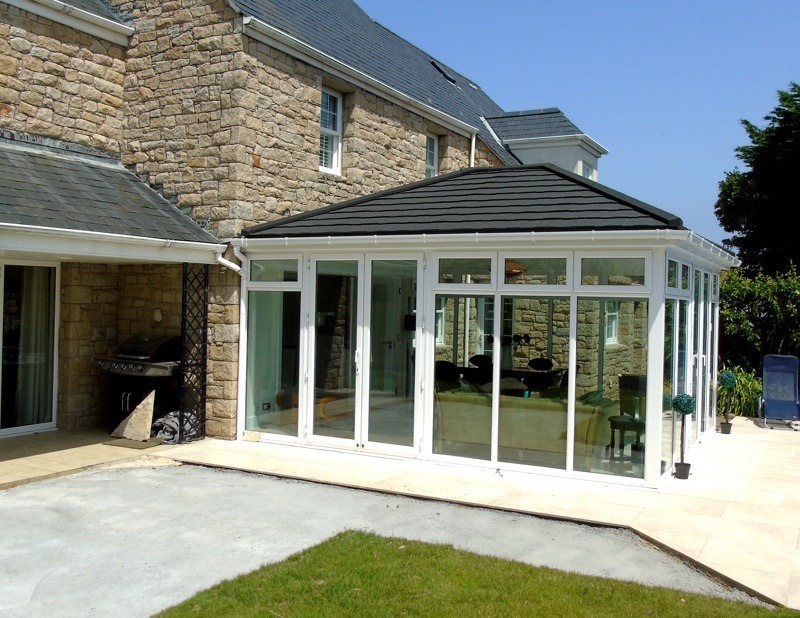 Another way of making your home thermally efficient is by installing a smart thermostat that could save you hundreds of pounds a year. This is because a smart energy meter only heats the rooms that you are in, so that it will result in cheaper energy prices in the long run. And you can even save energy by turning off your appliances instead of leaving them on standby. This includes laptops and fridges, which will save you roughly £30 a year.
Double glazing in your home will also reduce condensation, meaning your home will be much warmer as a result. This is because you won't experience any mould spots because the inside panel will have the same temperature as your house. At Affordable, we have A rated windows for thermal efficiency, which means if you decide to install it, it will save you plenty of money in the long run. This will improve the airflow of your home because it includes warm edge technology. This will reduce any chance of bacteria and viruses from entering your home, ensuring a cleaner living space. Furthermore, double glazing will enhance your home's structure for many years to come because the frame won't warp, rust, or fade.
We hope that this article has helped you understand the benefits of double glazing and how it can help your home be more energy efficient. If you want to find out more about our double glazing, get in contact with Affordable by filling out our online contact form. You can even call us on 01628 668557.
We look forward to hearing from you soon.