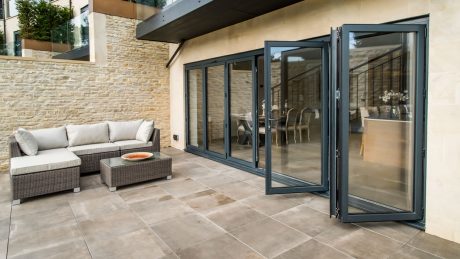 At Affordable Windows, we have years of experience installing quality aluminium bifold doors for Gerrards Cross homeowners. We work with Smart to deliver the best aluminium entrance solutions for your home.
Aluminium bifold doors are a high-performance entrance solution that is made to measure for each home improvement project we do. Your home's potential can be transformed with the installation of our aluminium bifold doors. They can be used for a variety of purposes, but are most commonly used as garden doors. Their concertina shape make them ideal for opening up a room to the outdoors, whether you have a patio, deck or garden space. They create a large entrance aperture which is perfect for those who host guests in the garden.
The Smart Visofold 1000 series aluminium bifold doors are versatile as they can be folded in a variety of configurations. You can shape and style them however you choose, making them suitable for both contemporary and classic Gerrards Cross residences.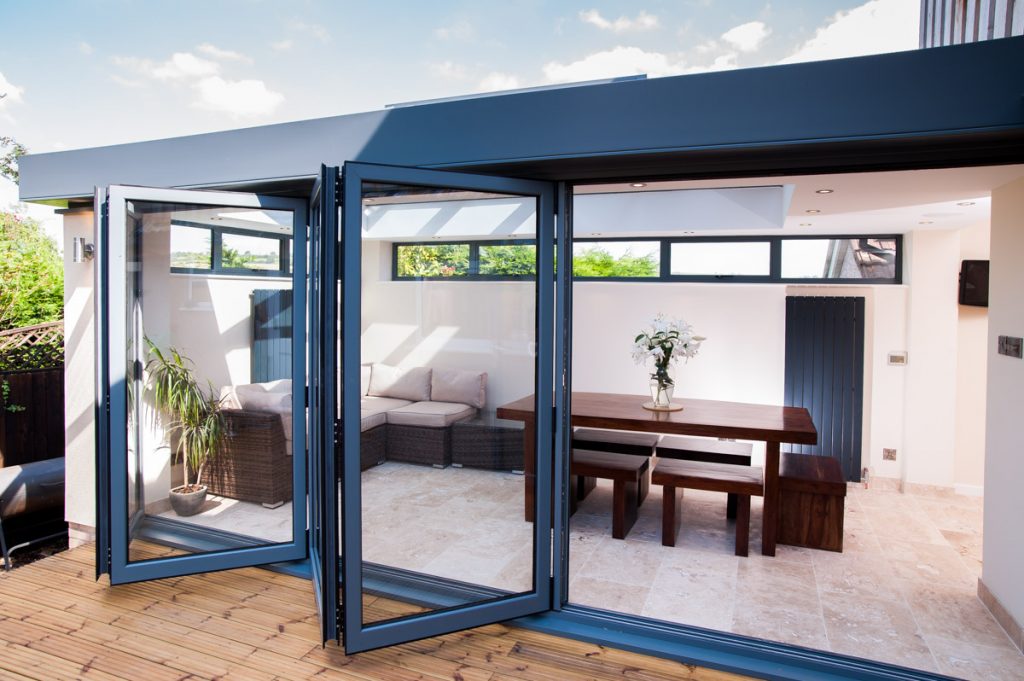 Highly Secure Aluminium Bifold Doors
Effective security is essential for all properties. Our aluminium bifold doors are outstandingly secure for your peace of mind. Each main opening sash of our bifold doors are fitted with multi point locking mechanisms as standard. This is made further secure by including floating mullions with sliding bolt locks within the profile. Combining the natural strength of the aluminium profile with cutting-edge locking mechanisms results in an exceptionally secure design that will keep any Gerrards Cross home safe.
Energy Efficient Installations
Our aluminium bifold doors are also highly energy efficient. Energy prices are high, so you need a entrance solution for your home that is cost-effective and performs well. The aluminium profile of our bifold doors is ideal at helping your space retain heat, keeping your home comfortable all year round. Our advanced double glazing panels feature polyamide thermal break technology which acts as a barrier to the outside, keeping warm air in and cold air out while minimising thermal transfer. As a result our door shave exceptional U-values. We also manufacture our doors with market leading wind and water resistance and air permeability.
All our aluminium profiles feature high-quality EPDM gaskets and innovative weather brushes which help to keep the bad weather conditions out. Aluminium bifold doors work to ensure that no condensation will build up internally, reducing the risk of the build up of mould. To improve the weather resistance of your new profile there are also rebated thresholds.
Aluminium bifold doors can effortlessly open up an entire wall of a room, bringing panoramic views and an influx of natural light. With large glazing panels and slim profiles, Smart's aluminium bifold doors let natural light flood and illuminate any room. This means you will need less artificial light to brighten a room, creating a warm and welcoming environment inside your home.
These bifold doors are ideal for trapping heat into a property during the cold winter, which could reduce your energy bills greatly. Homeowners in Gerrards Cross will be able to save money and reduce their carbon footprints when installing our aluminium profiles, making them the perfect investment for any home.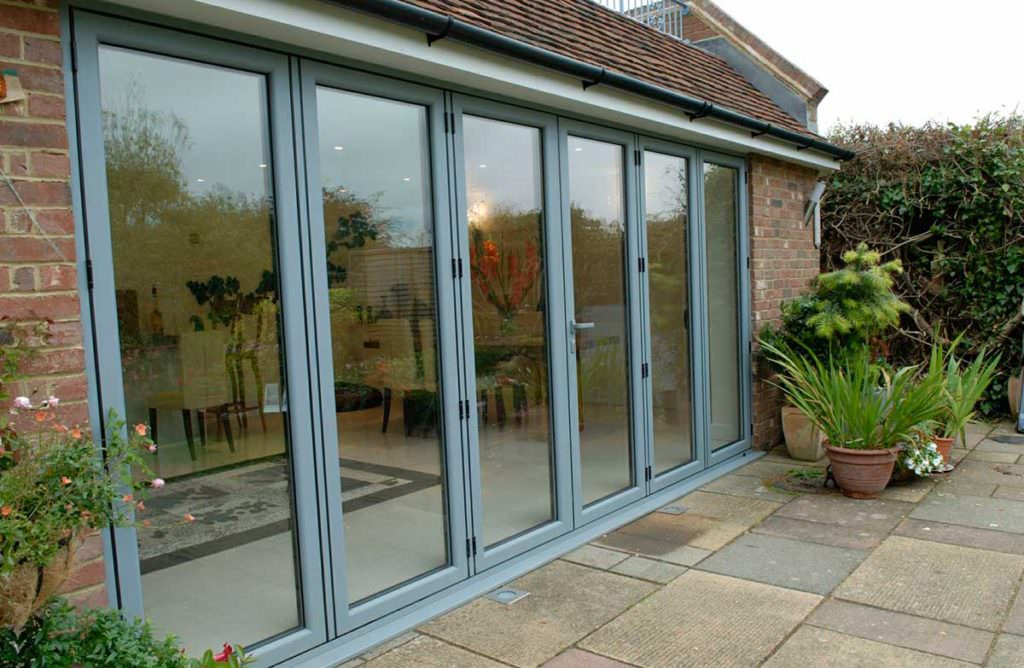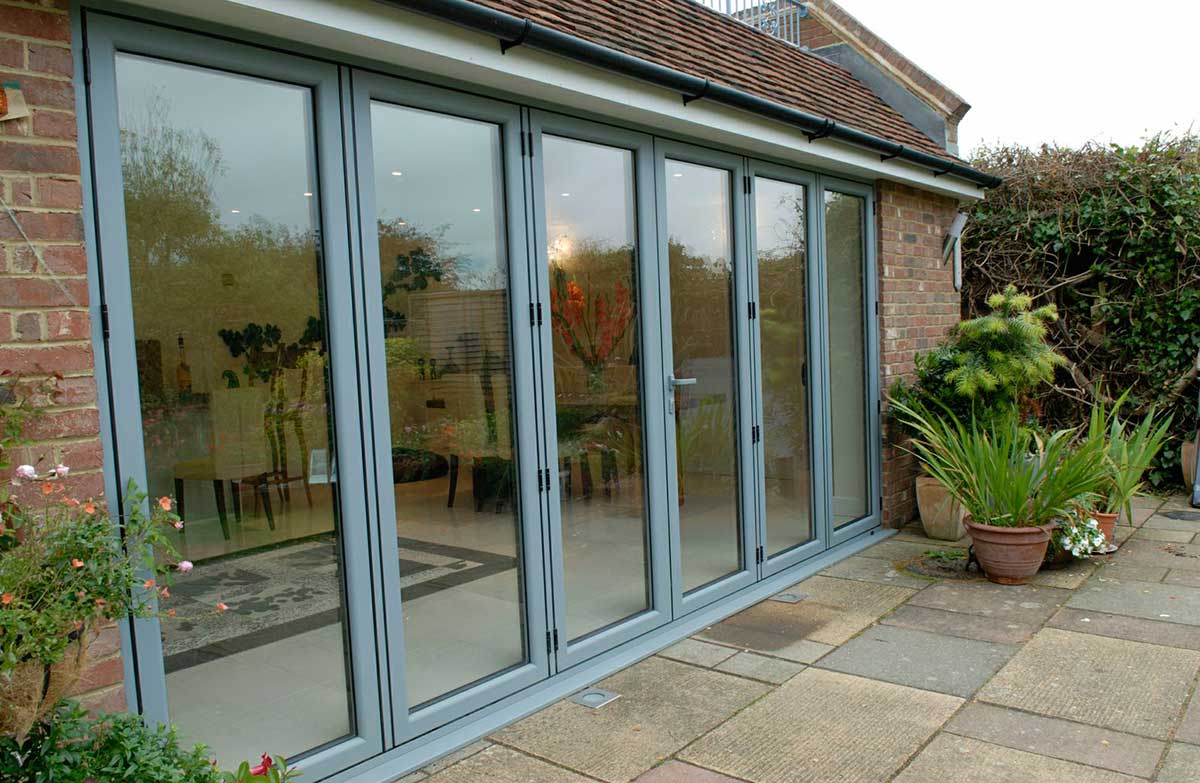 Bespoke Door Installations
Indulge in a personalised arrangement for your Gerrards Cross home. We only install custom-made doors into your home, so we ensure it will fit perfectly. We have a wide variety of styles available, with a variety of colour palettes, special features, and surface treatments.
Your new aluminium bifold door can be customised to fit your home's specifications. We have a wide variety of fold styles to accommodate any home in your location. Your new bifold doors can slide either to the left or to the right, and they can open in the centre or at either end. These concertina doors are made to order, so you can have them designed specifically for your home's layout and design, as well as your tastes and lifestyle.
You could either go for a striking design that will make an impression on the market, or you can select a form that is more understated and will integrate harmoniously with the rest of your property. Our aluminium folding door collection also provides a low threshold choice. For homeowners who want a more accessible entrance to their backyard or garden, this may be an excellent option.
If you're interested in learning more about the individualised services we provide to Gerrards Cross homeowners, please contact us today.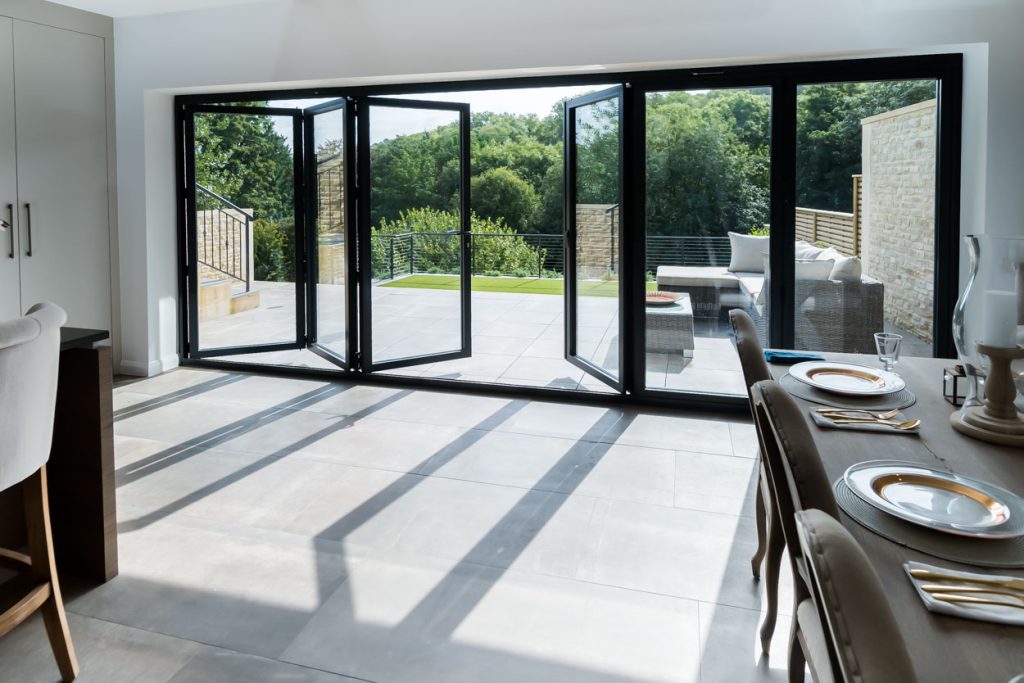 Aluminium Bifold Door Prices Gerrards Cross
Please use our innovative online quoting engine to get a bespoke price for our range of aluminium bifold doors. The engine is very easy to use and works across all devices. It can create a quote tailored specifically to your specifications.
If you would rather talk to us in person, get in touch with us on 01628 668577 or use our online contact form. Our knowledgeable team will be able to help you get the best installation for your home, and answer any queries you might have.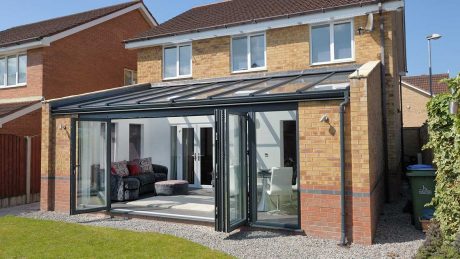 At Affordable Windows and Construction (AWC), we're proud to offer aluminium bifold doors that are brilliant for homes in Burnham. Bifold doors function on an in-line slider, meaning they take up little to no space. However, when you open them, the whole design folds away into the corner of the room, opening your home up to your garden to give you the feeling of far more space.
Bifold doors have multiple panels of double glazing in their design, as well as slimline aluminium frames. Because of this, the doors smoothly fold when you open them. When they're closed, though, those materials help you even more. Our aluminium bifold doors are thermally efficient, secure and built to last for homes in Burnham.
At AWC, we source our aluminium bifold doors from leading manufacturers. We work with SMART to offer their Visofold 1000 aluminium bifold doors to homes in Burnham, Slough and the surrounding areas. And, as a trusted, local installer, we can provide a service that matches the quality of your new doors.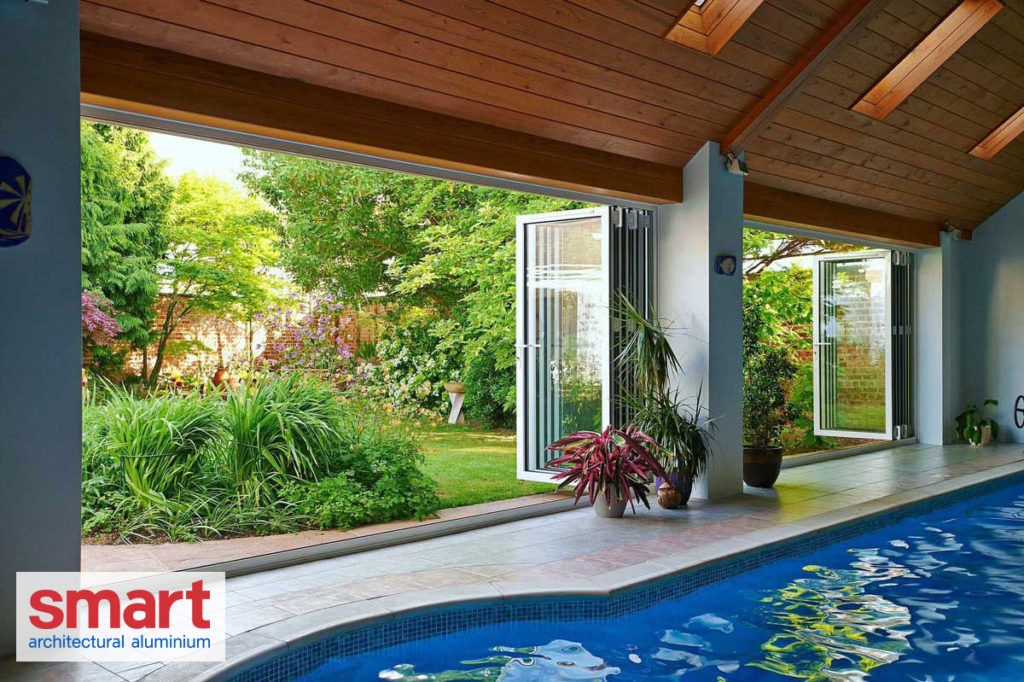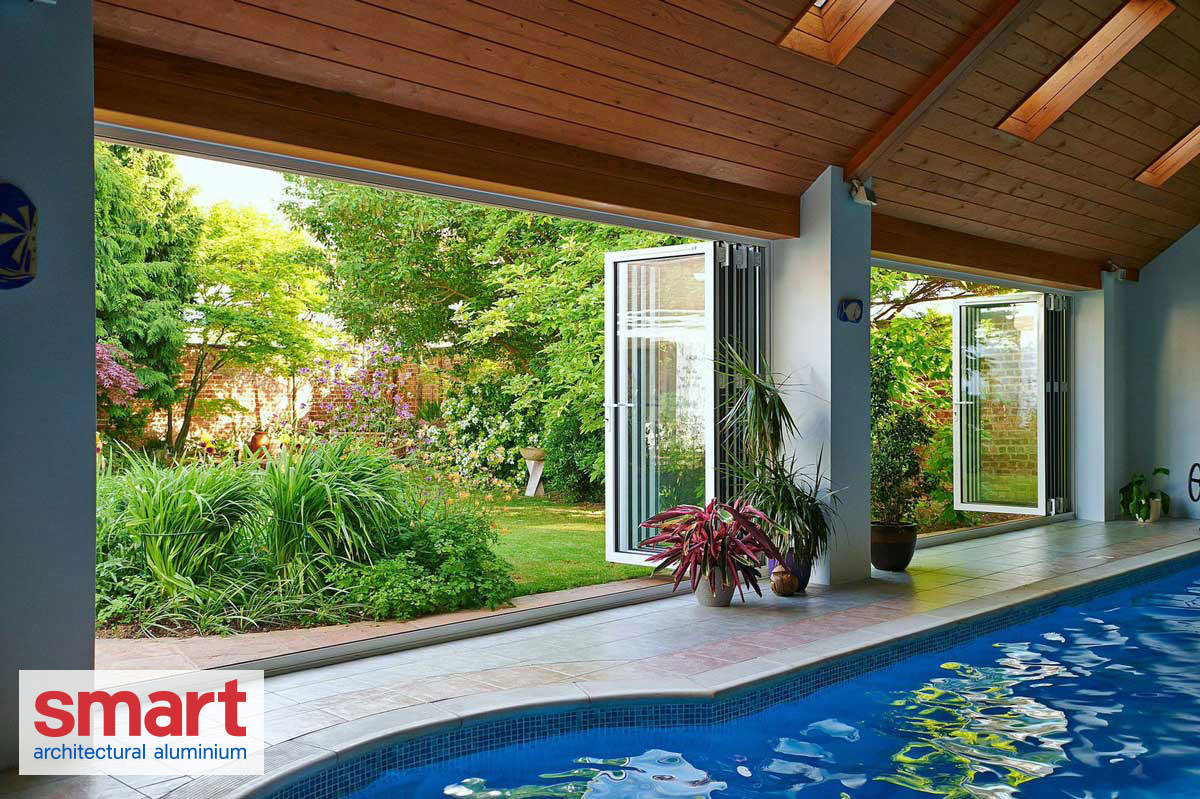 Efficient Aluminium Bifold Doors Burnham
One of the main benefits of aluminium bifold doors is their thermal efficiency. At the moment, you might have an old back door which is starting to show its age. It may have wooden frames which have cracked and twisted over time or single-glazed glass that's weakened. As a result, your old door could be losing a lot of energy for your home and allowing cold air to enter it.
With our aluminium bifold doors, though, you can take back control of your home's temperature. Each panel of double glazing lets in plenty of natural light and warmth, but the two panes of glass in the design both work to insulate your home. Additionally, the aluminium frames are air and water-tight, preventing problems like draughts, water ingress and condensation.
As a result, your doors can protect you from the cold. However, your aluminium frames can help you keep cool in the summer too. With AWC, you can get doors with thermally broken frames, meaning pockets of warm air can escape to cool down your home. Because of this, your doors will keep you comfortable for decades, all while saving you money on your energy bills!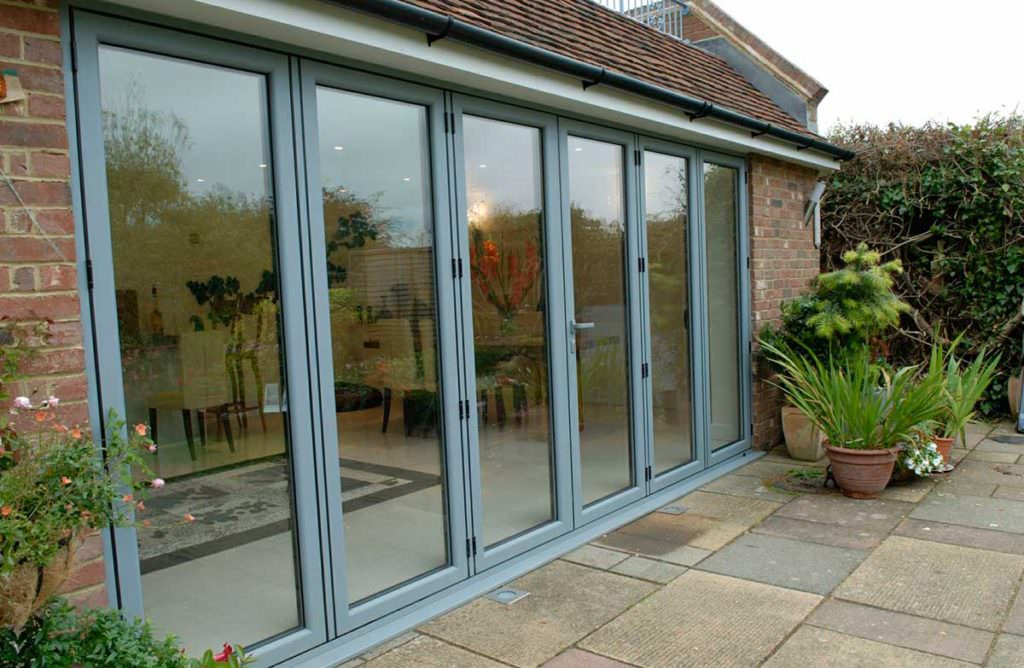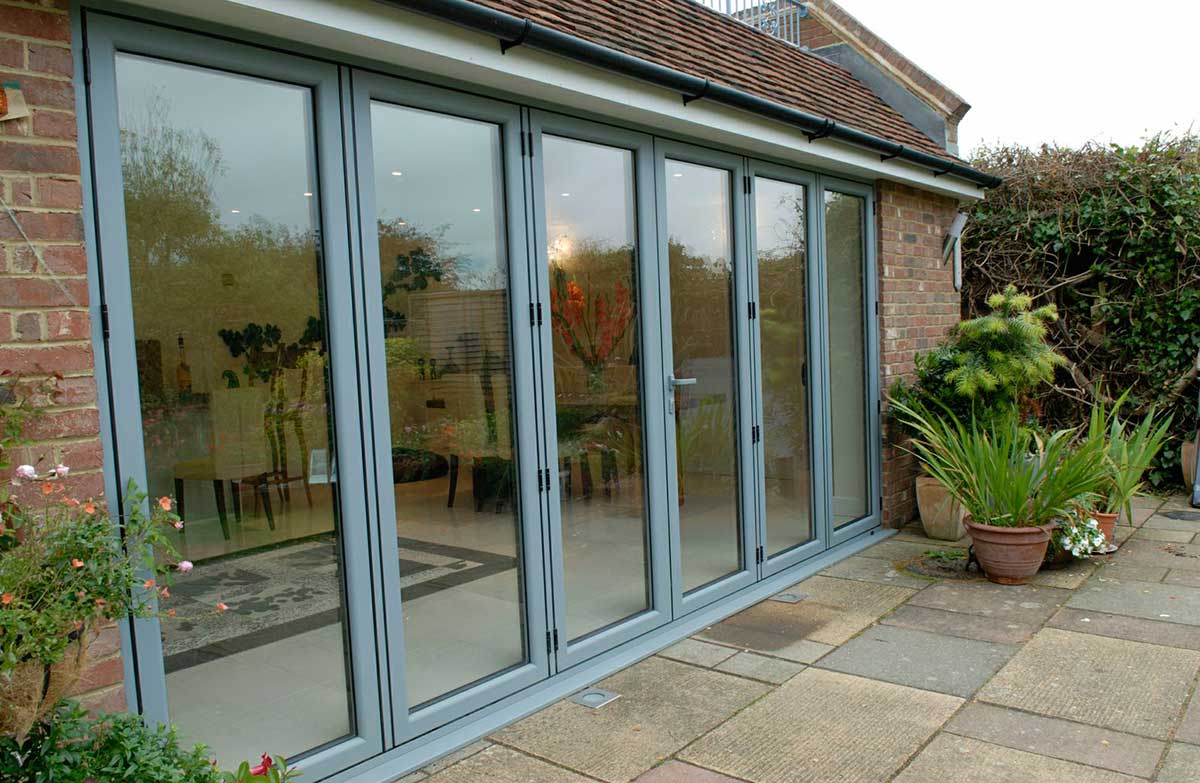 Secure Aluminium Bifold Doors Burnham
With aluminium bifold doors, you can open your Burnham home up to nature. However, you'll also be able to close it off to any potential threats. When you work with AWC, you'll be choosing a company that values your security. It's this commitment to safety that drives us forward, ensuring we offer secure aluminium bifold doors for your Burnham home.
Our bifold doors, sourced from market-leaders SMART, come packed with the latest security hardware to keep you safe. For example, each glass panel will have a multi-point locking mechanism to keep it attached to the frame. Not only that, but our designs have hook bolts and shootbolts as standard. We even offer Ultion locks as an optional extra for further peace of mind.
In front of all of that, though, your doors will have durable materials across their design. We use tough, durable double glazing that's less likely to break than one layer of glass, along with highly resilient aluminium frames. As a result, your new doors will be impact-resistant. Your aluminium profiles will protect the security hardware inside from wind and rain as well.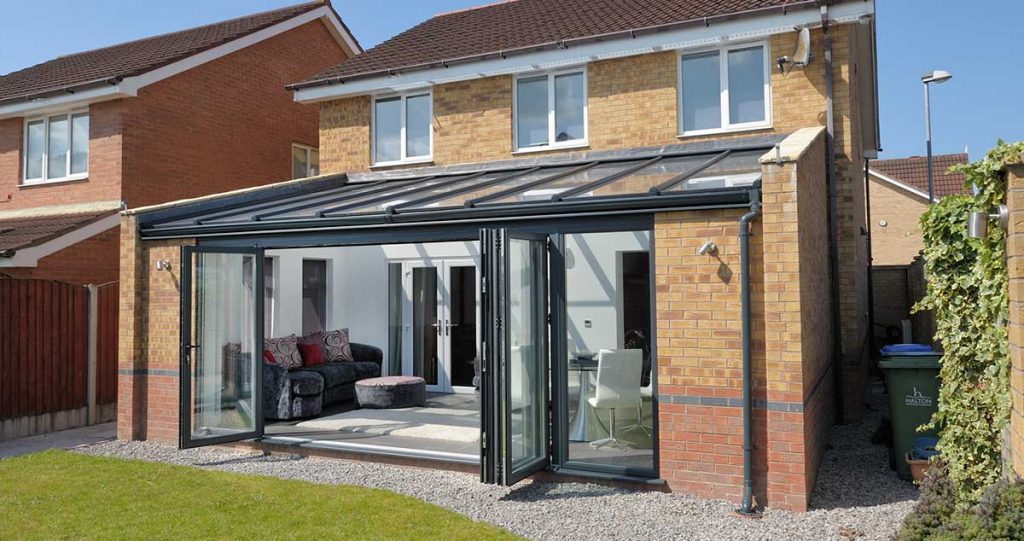 Lasting Aluminium Bifold Doors Burnham
Finally, our aluminium bifold doors stand the test of time for your Burnham home. We supply long-lasting doors for your property with durable materials that can perform for decades. Also, you won't have to spend time maintaining your doors regularly. Instead, the aluminium frames and double glazing will keep their shape and strength, allowing you to spend more time enjoying them.
One of the main reasons our aluminium bifold doors last for decades for Burnham homes is that aluminium is a weatherproof material. As a result, wind and rain won't cause any issues in the frames for decades. Your doors won't fade, scratch or discolour either, meaning you can invest in bold colours for your aluminium bifold doors with complete confidence.
With AWC, you can fully personalise your new aluminium bifold doors to suit your Burnham home! You can modify them in several ways, including picking the ideal size, panel configuration and opening direction. And, with a low-threshold option, you can make your home even more accessible! AWC offers market-leading aluminium bifold doors for less in Burnham.
Aluminium Bifold Doors Prices Burnham
You can find out more about our aluminium bifold doors by getting in touch with AWC today!
With our online quoting engine, you can create unique doors from our range of options in minutes. From there, you'll get a personalised price for your bespoke bifold doors in seconds.
If you'd like to ask us anything, you can reach out to us via our online contact form. Alternatively, call us on 01628 668 577 to speak to our friendly team directly!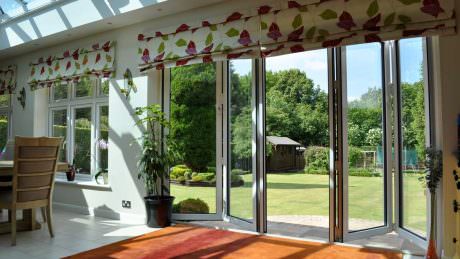 Bi-fold doors are the ideal choice for anybody in Maidenhead who wants to make a statement in their home. With luxurious and advanced design, a bi-fold door adds a dramatic feature to your home that's sure to attract attention.
Not only that, but bi-fold doors have a whole host of other benefits. For example, their wide glass panels open your living room to outstanding natural light and warmth. Thanks to their impressive insulation, you'll be able to save money on energy bills as well.
With AWC, you can invest in bi-fold doors with peace of mind. We're committed to delivering doors of the highest quality across Maidenhead and the surrounding areas. We also work with top manufacturers like Liniar and Yale to ensure your home gets the best energy-saving performance and security.
Using our bi-fold doors cost calculator, you can also ensure you get a bespoke door that's unique to you. With an extensive range of colours, finishes and handles, you'll be in total control of your bi-fold doors with AWC.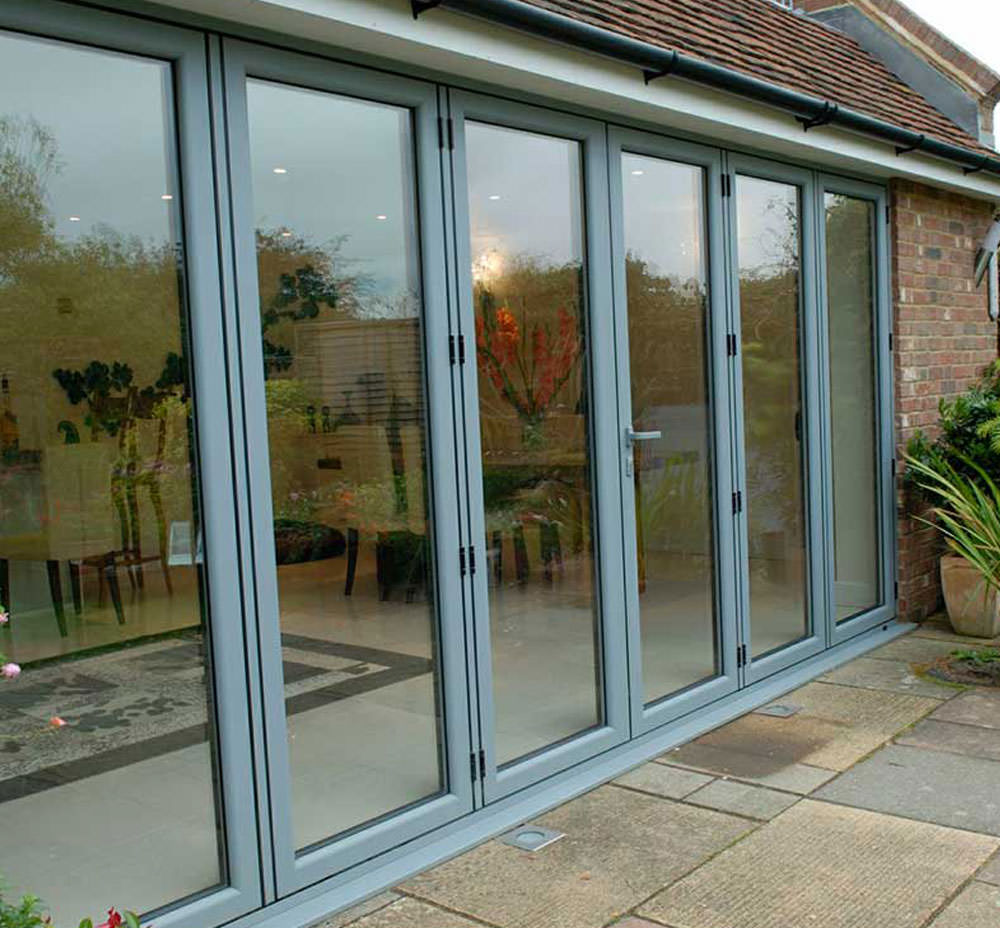 Why Bi-Fold Doors?
Bi-fold doors offer innovative features and bold design that makes them the ultimate choice for your Maidenhead home. For a start, bi-fold doors feature multiple panels of advanced double glazing, for outstanding views and superb energy efficiency too.
Bi-fold doors come into their own when you decide to open them up. Thanks to their unique opening mechanism, you can be stunned as each panel of your new doors folds in on one another. That way, they will disappear into the corner of the room, leaving a seamless entrance to your garden.
While they're perfect for opening your home up to natural light and warmth in the summer, they're also useful in winter. That's because our bi-fold doors are fully weatherproof, air and water-tight, and feature toughened glass to deal with any conditions.
Bi-fold doors will also benefit your home for years to come. They'll save you money on energy bills year-on-year while still retaining their performance. Additionally, you'll find that bi-fold doors will raise your Maidenhead home's value considerably when its time to move on.
At AWC, we ensure that your new doors will last a lifetime. Their impressive security features, like shootbolts and hook bolt locks, won't rust and lose their robustness. And, with either uPVC or aluminium construction, you'll have a material that is proven to perform for decades.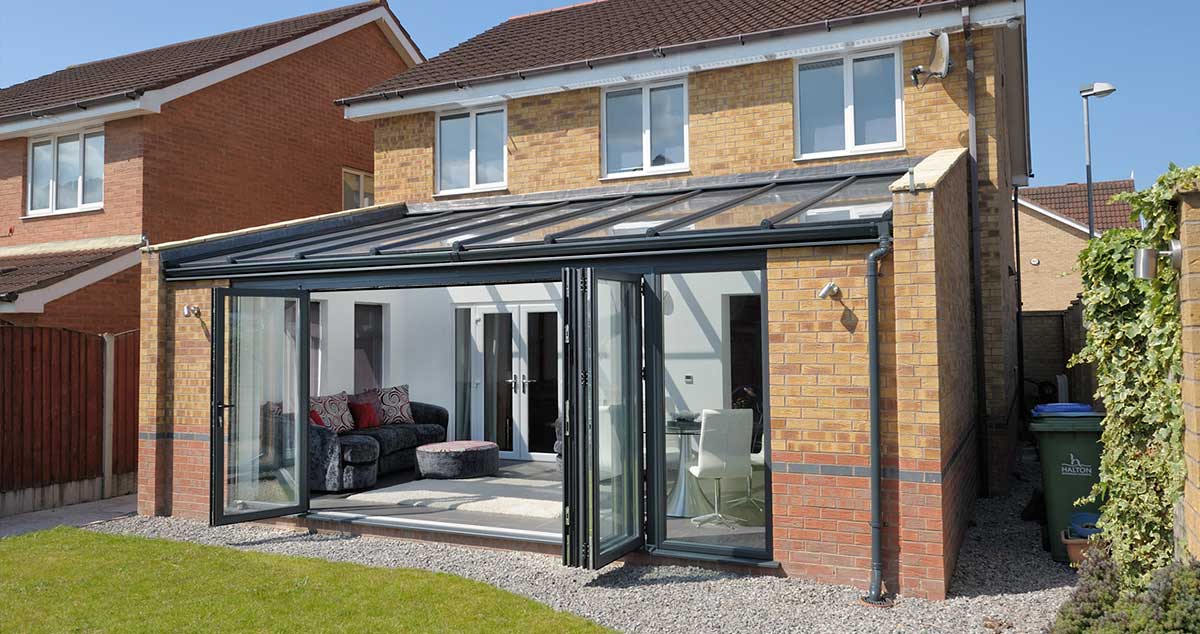 uPVC is a durable and advanced material that makes your bi-fold doors even better. Choosing uPVC ensures that you provide excellent views, terrific thermal protection and also environmental benefits for your Maidenhead home.
uPVC works with your double glazing to keep your home warm. Thanks to its air-tight design, it captures heat and leaves no room for draughts to enter your living space either. That way, you can keep your home warm all year round and reduce your energy usage.
With less money spent on bills, you'll have more for the things that matter. As well as that, uPVC bi-fold doors improve your home's environmental efficiency by reducing your energy needs. You can save money and do your bit to save the planet at the same time.
Your uPVC won't warp or twist when exposed to adverse weather and will retain its performance for years to come. Additionally, thanks to its slim construction and reflective white finish, you'll make your living space even brighter with stunning views of the outside world.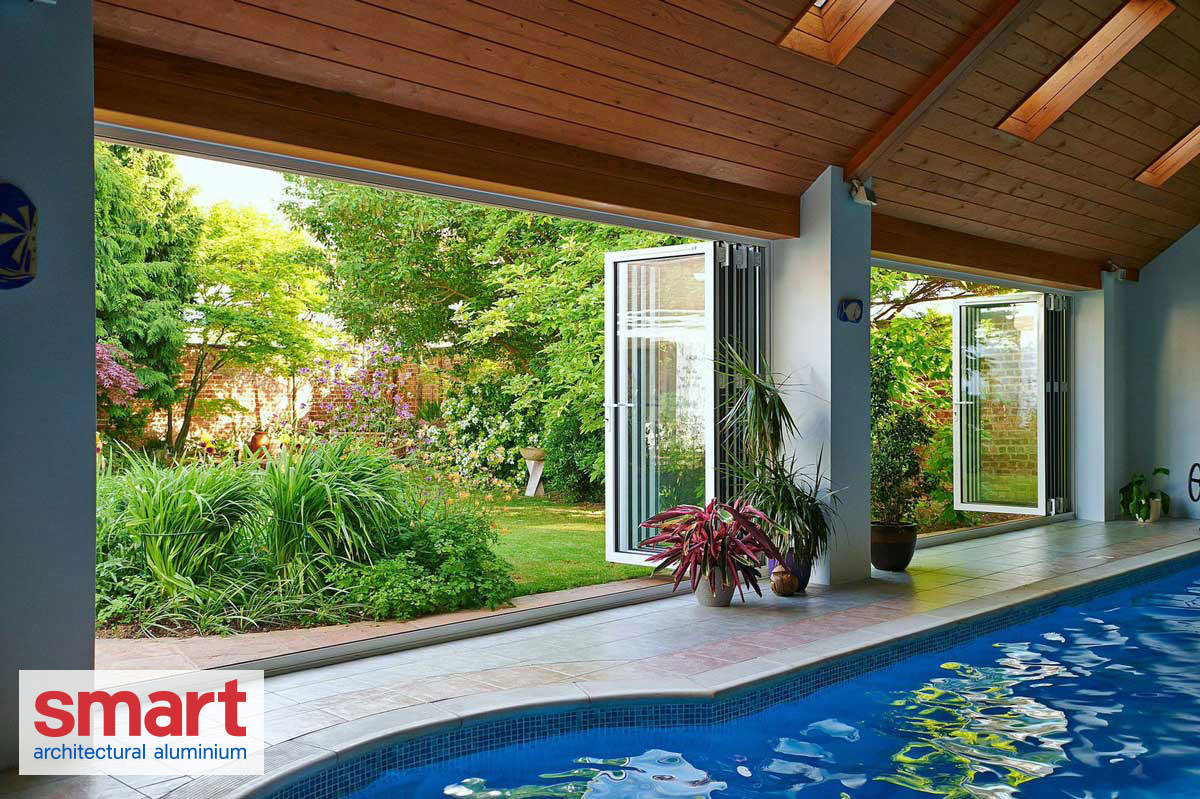 To enhance your bi-fold doors yet further, you can also use aluminium as your building material. Aluminium is a precious metal that is sturdy, yet lightweight. That way, you can guarantee unbelievable security and flexibility for your home.
Aluminium is inherently robust and perfect for keeping your Maidenhead home safe. Aluminium gives your bi-fold doors a durable material that conceals its internal security hardware. Additionally, aluminium is a security feature all by itself.
That way, you can be sure an AWC door is the responsible choice for your family. Also, aluminium is the ultimate option to protect your home from the weather. It can last for nearly half a century at peak performance, no matter what gets thrown at it.
At AWC, we work with Smart Systems to ensure your doors can benefit from market-leading aluminium. Additionally, you can select from a range of colours and finishes to make your aluminium bi-fold doors utterly unique to your home.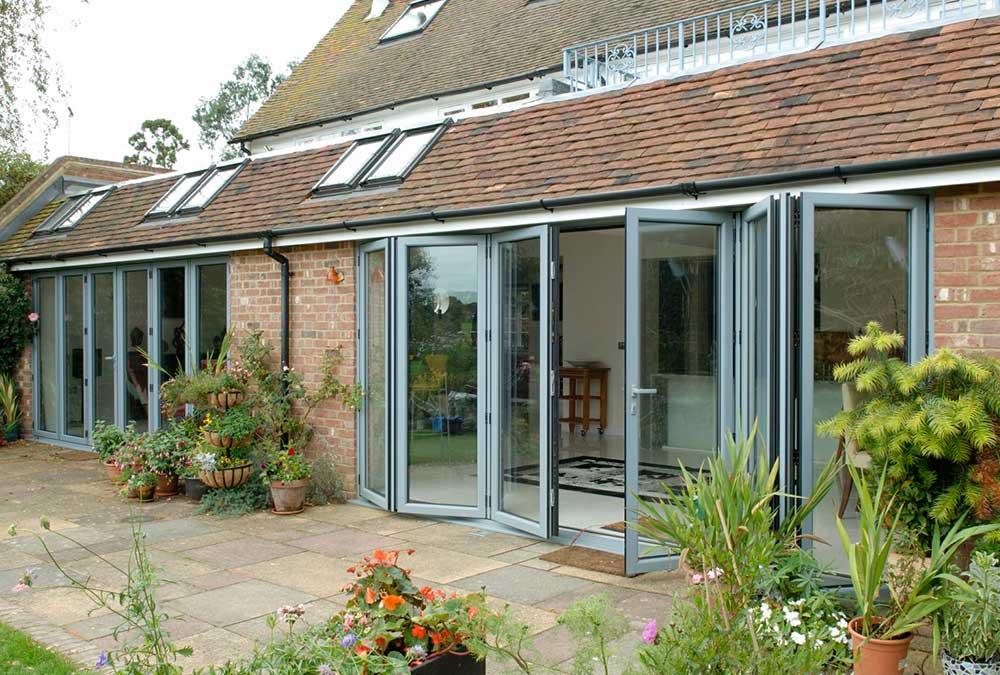 Bi-Fold Doors Prices Maidenhead
To install bi-fold doors that give your Maidenhead home a stunning new centrepiece, then talk to AWC! We ensure that people across Maidenhead make a brilliant investment for their homes.
Firstly, take advantage of our bi-fold door cost calculator to design your dream doors. Whether it's a unique colour, finish or even a handle that makes the difference, you can add it to your doors and get a quote instantly on your designs.
Alternatively, you can use our online contact form to ask us any questions, and a member of the team will get back to you quickly.
Finally, we'd love to talk to you about enhancing your Maidenhead home. Give us a call on 01628 668 577, and we can work on it together.