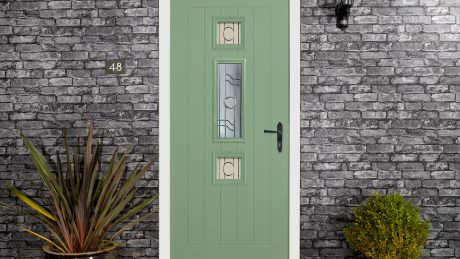 Stunning and Secure Composite Doors in Slough
Composite doors are the perfect choice for any Slough front door thanks to their incredible all round performance and superior style. Affordable Windows and Construction offer an extensive range of attractive, high performance composite front doors, designed to complement the existing aesthetics of your Slough home.
These simply stunning residential doors provide outstanding security and thermal performance, making them an incredibly sought after option in Slough.
With Affordable, you even get a range of composite doors to choose from for your Slough home. Each one offers slightly different features for your home and our composite doors will suit any budget, making composite doors from Affordable, affordable!
Affordable Windows and Construction work closely with some of the most respected composite door manufacturers in the UK. Enabling us to offer our customers the most competitive prices for truly outstanding products. Offering increased security and thermal protection tor your Slough home.
Read our overviews below to find out more about our spectacular composite doors and what they could do for your Slough home.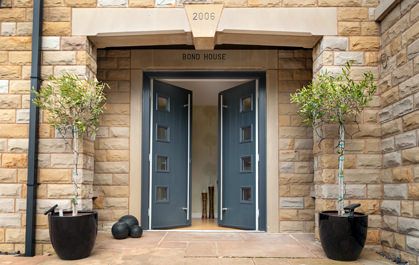 Door Stop Composite Doors
Our composite door range from Door Stop enables you to access a superb range of designs to complement your Slough property. Each one is constructed using the standard solid core with a robust glass reinforced plastic overlay to create a strong and durable residential door.
These exceptional composite doors are also highly energy efficient. They are one of the most eco-friendly composite doors available, maximising the thermal performance of your home.
As with all composite doors, Door Stop doors have a beautiful and authentic timber appearance which adds style and character to your home while still offering all the benefits of uPVC technology and low maintenance durability.

Solidor Composite Doors
Looking for ultimate performance, then the Solidor composite door is the one for you. The unique 48mm core is unrivalled and ensures that these stunning doors offer the most impressive strength and thermal performance.
In style, there are so many choices with the Solidor composite door. Solidor offer a wide range of door designs, all of which come in an exclusive range of 20 colours and the frames can be chamfered or sculptured. Whether you prefer modern Italian designs or classical Edwardian looks, the Solidor composite door range can meet your needs.
Solidor composite doors are proud to be made in Britain, limiting their impact on the environment and ensuring they can be involved in supporting their local community.
With these composite doors, you will benefit from superior design and quality as these doors have been truly crafted to meet the needs of the British homeowner, perfect for your Slough property.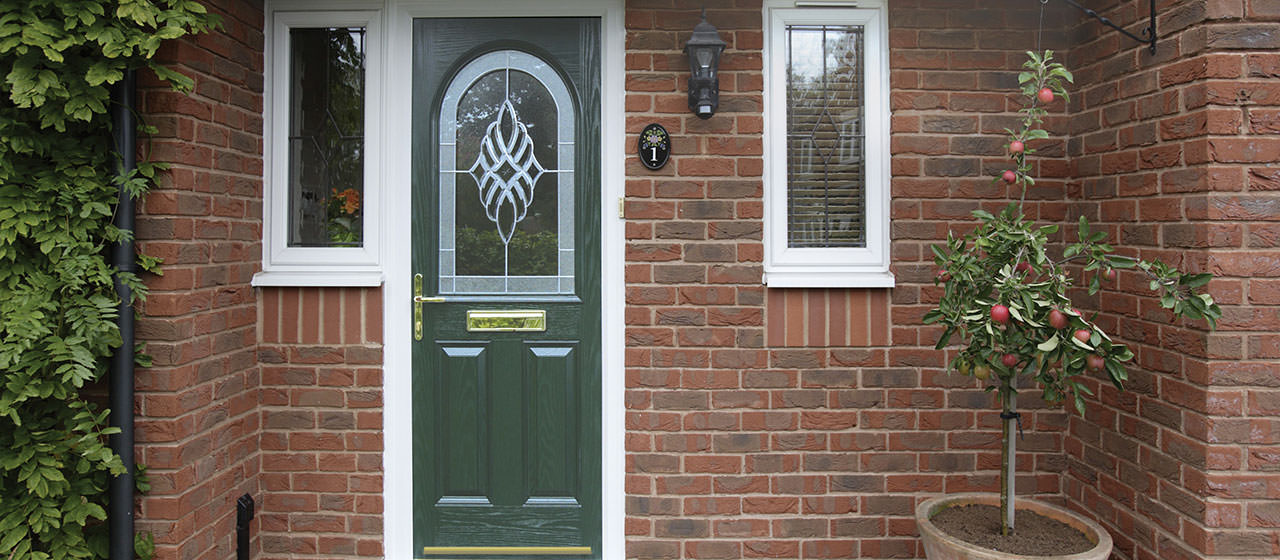 Endurance Composite Doors
Our Endurance composite doors are one of the most solid options available. The solid timber core is sledgehammer proof, making them virtually impossible to break. They offer superb security for Slough homes, keeping your family and property thoroughly protected.
These fantastic composite doors come in three collections, the classical collection, urban collection and country collection, enabling you to find the perfect match for your Slough home. Each composite door has a beautiful authentic timber appearance, yet provides all the benefits of modern uPVC innovations.
They are incredibly thermally efficient thanks to the superb insulating properties that protect your home from the cold and the rain. In fact, these composite doors will protect you from any weather in Slough at all.
On top of all of this, Endurance composite doors are superbly secure and you can even opt for an upgrade.
Endurance composite doors are a cost-effective front door for your Slough home and will enhance its character and style.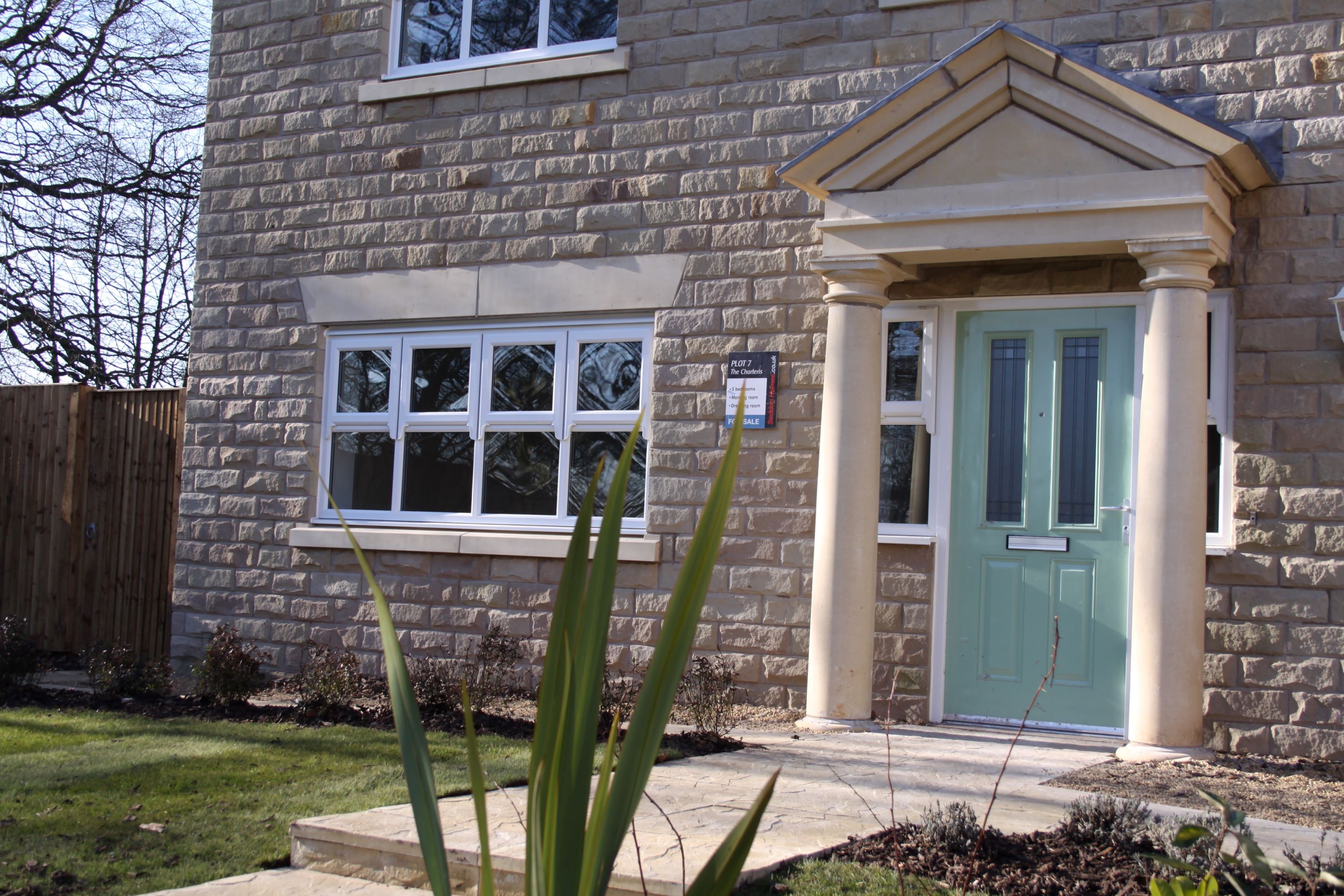 Residence 9 Composite Doors
Nothing matches the incredible beauty and style of the Residence 9 range of composite doors. These stunning front doors are a truly crafted residential door design that offers premium performance and finish.
They have a 9-chambered profile which maximises their thermal performance, making them one of the most energy efficient composite doors available. The multi-chambered profile acts as a thermal barrier which is enhanced by the insulating properties of the composite door design. You will benefit from a much warmer home which will keep the cold outside where it belongs.
Residence 9 composite doors also have a unique high-security design, including the most impressive locking systems. These exceptional double glazed doors are incredible when it comes to home protection.
Residence 9 composite doors are the most authentic option for your home, perfect for heritage properties. They are a high quality, luxury and premium front door that will enhance your property in style and performance.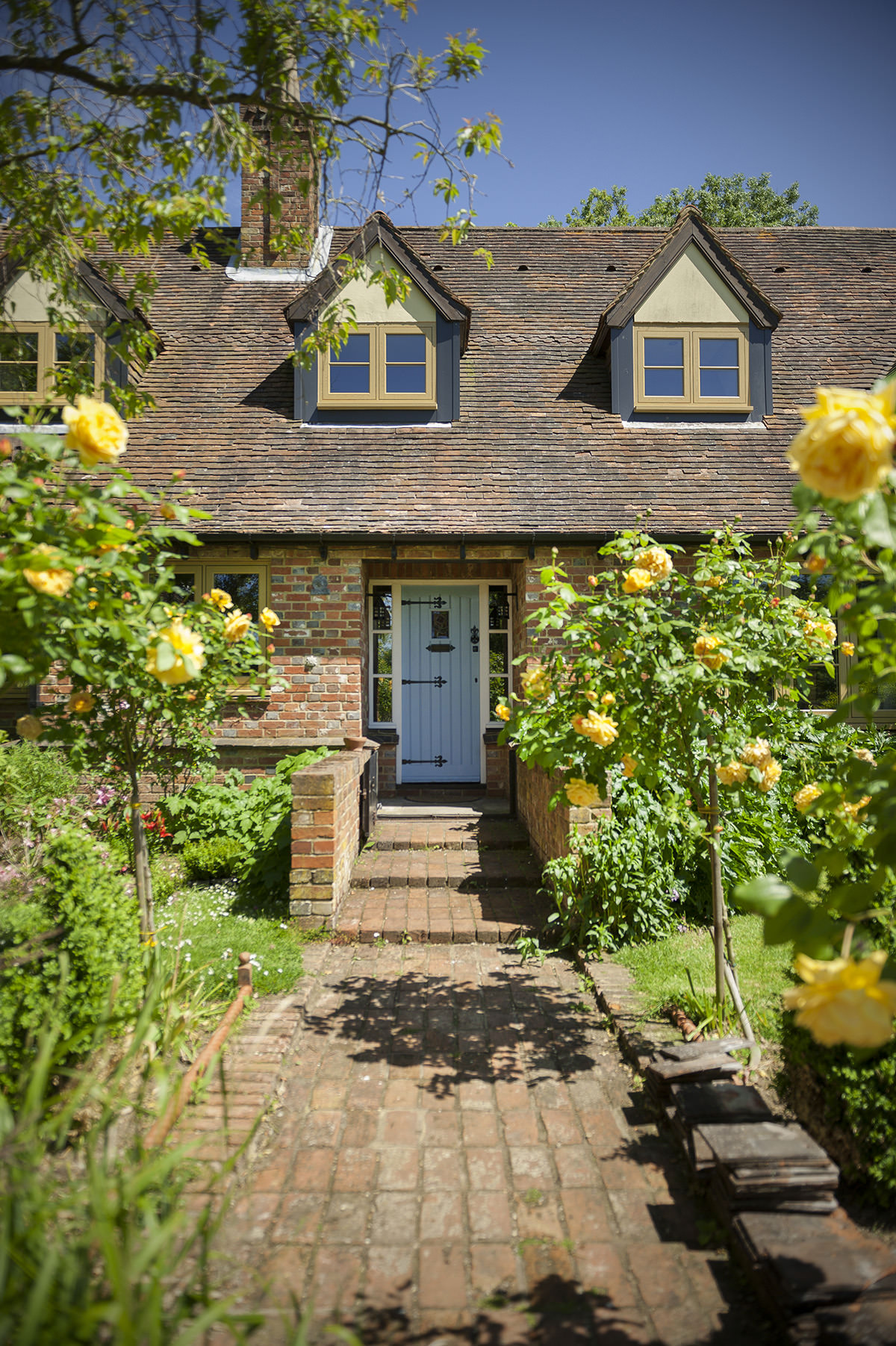 Composite Door Prices Slough
You can find out more about any of our composite doors from our fantastic team. They will be able to give you expert advice and guidance on all our composite doors, helping you to choose the right option for your Slough home.
We also provide an online door designer, where you can create your perfect composite door and see just how much it will cost for your Slough home. Try it now!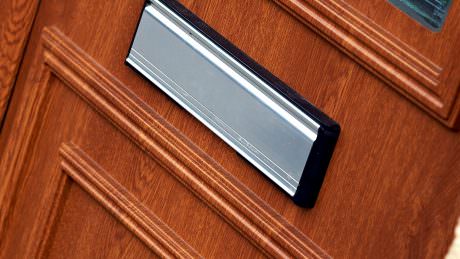 Stylish New Front Doors for Your Slough Home
Front doors make all the difference to the appearance of your Slough home. They come in countless designs and finishes, each one can be tailored to meet your needs.
Choosing a new front door can seem a bit of a mammoth task with so much choice available, however here at Affordable, we want to make things easier for our Slough customers.
We've written this handy guide to the variety of front doors that we install throughout Slough to give you inspiration for your home improvements. Our overviews give you inspiration for choosing your new front door, and summarise the features and benefits of each option.
Read on to find out more!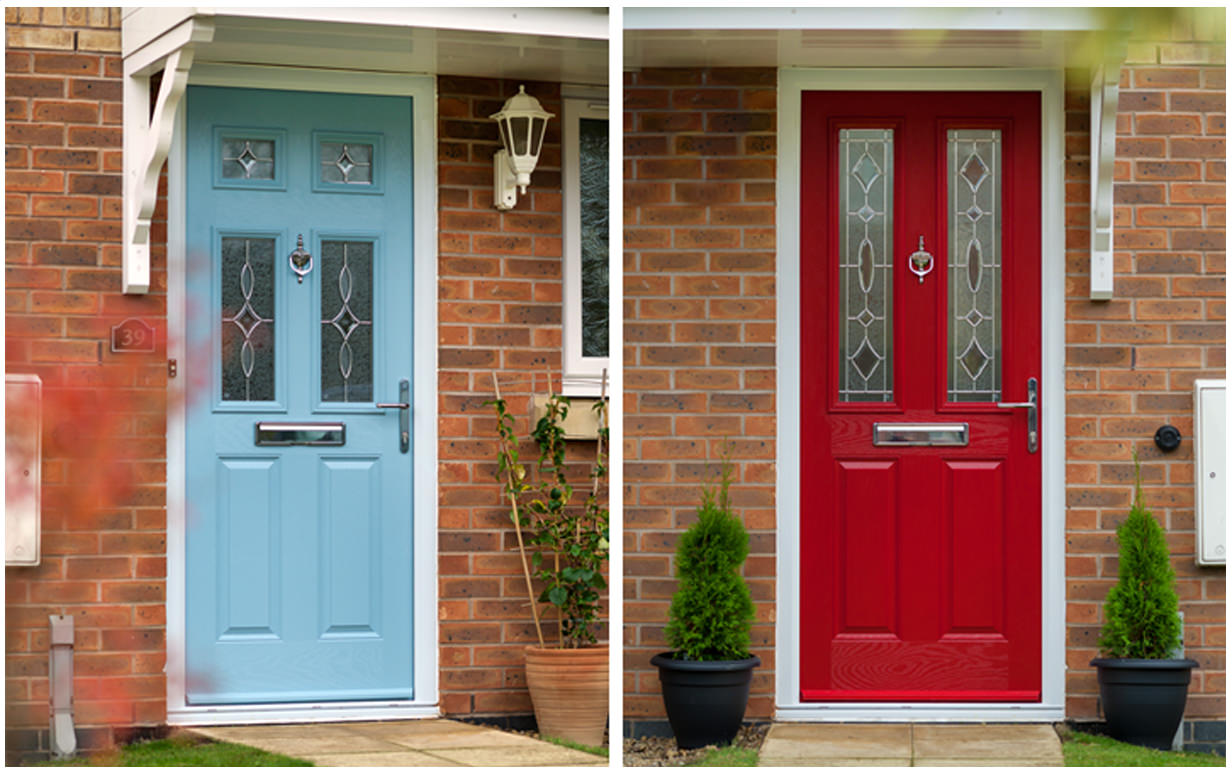 uPVC Front Doors in Slough
uPVC doors are one of the most popular front door choices in Slough. These modern double glazed doors are designed and manufactured by Liniar and provide outstanding performance.
Each uPVC door in our range of designs is constructed with the innovative Liniar multi-chambered profile. This incredible feature creates a superb thermal barrier to maximise the energy efficiency of your Slough home.
Our uPVC front doors are also incredibly secure. They are internally reinforced to enhance their strength and then we fit them with high-security locking systems as standard. You can even enhance the security of your uPVC door.
We offer a superb range of panel designs for you to choose from. Each one is carefully finished to meet your exact requirements. You can choose from several colours and woodgrain finishes to suit your Slough home, as well as decorative glazing, hardware and accessories to create the perfect overall look.
Take a look at our uPVC doors page for the technical specifications and more information on the benefits these doors offer to your Slough home.
Composite Front Doors in Slough
Composite doors are fast becoming a sought after home improvement in Slough thanks to their incredible beauty and performance.
Our composite doors come in a variety of styles from three distinct manufacturers – Doorstop, Solidor, and Endurance. Each manufacturer offers a range of designs and their own unique features, but in general, you can expect the following benefits from a composite front door.
Composite front doors are exceptional when it comes to thermal performance. They are highly insulating due to the clever construction and really are the most energy efficient option for your new front door in Slough.
They are also the ultimate choice for security. Fitted with the very latest locking mechanisms, composite doors have inherent strength that is unrivalled in the double glazing industry, ensuring your home is completely protected from unwanted intruders.
All this comes with the stunning simplicity of timber aesthetics. Our composite doors provide you with all the beauty of wood and none of the upkeep. They combine traditional timber looks with state of the art uPVC technology, making them durable and robust.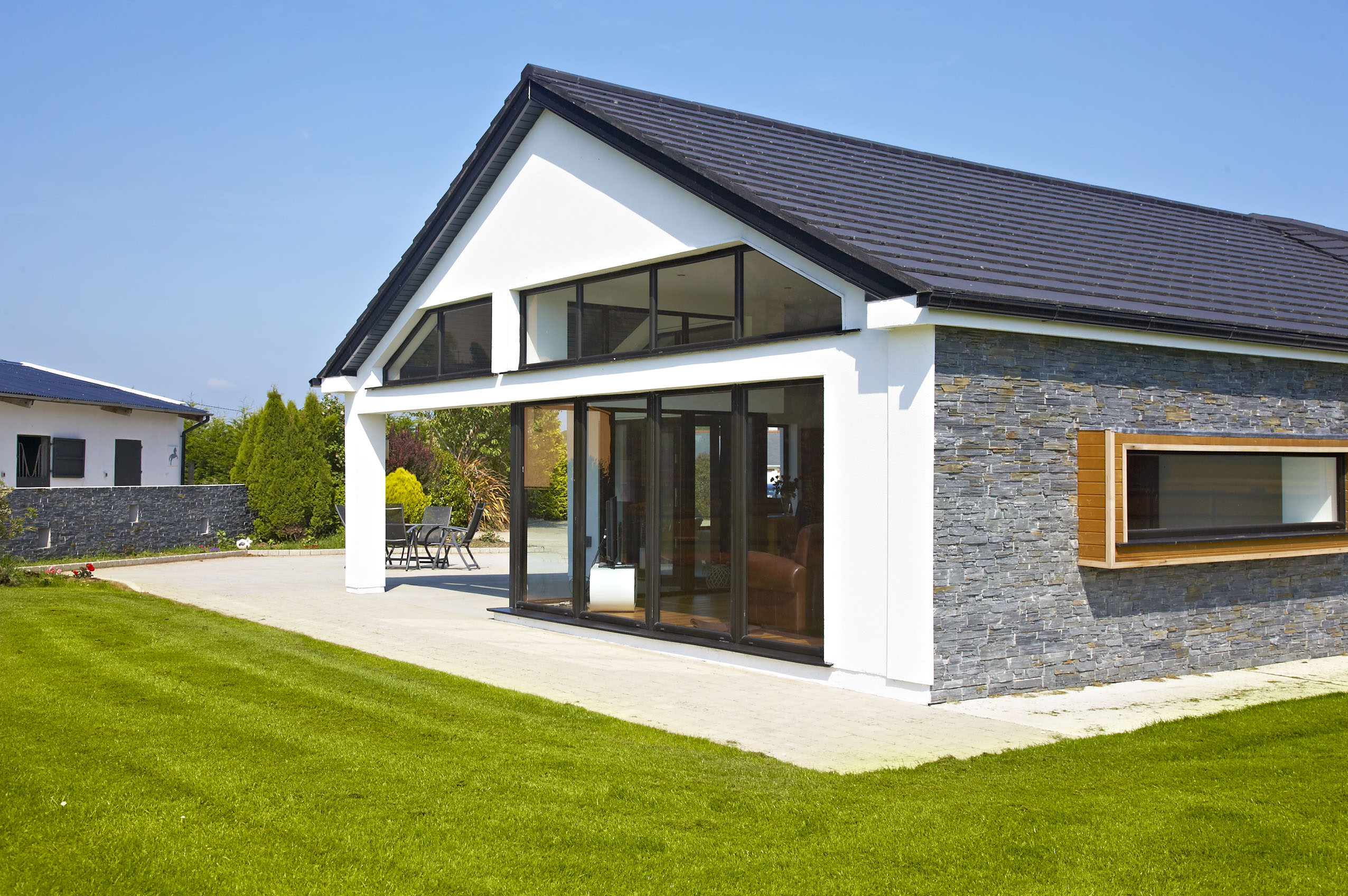 Aluminium Doors in Slough
One of the most stylish front door designs is the aluminium front door range. Aluminium has incredible strength, enabling a slimline profile that can withstand even the most intense physical attacks.
Aluminium doors give your Slough home a beautiful, modern appearance. They are constructed by leading manufacturer Smarts Architectural Aluminium and use the most cutting-edge techniques and advances in their design.
You will benefit from impressive thermal performance, combined with unparalleled security when you choose aluminium doors for your new Slough front door.
They are also available in the most incredible array of colour finishes. Aluminium is the ultimate choice for personalised design. You are able to choose from a variety of panel designs, decorative glazing, hardware and accessories as well as an extensive selection of colours.
Take a look at our aluminium residential doors.
Residence 9 Front Doors in Slough
For the most luxurious finish, choose our premium range of front doors from Residence 9. These incredible front doors have a composite construction, which ensures maximum insulation and sound proofing as well as superb security.
The beauty of our Residence 9 front doors comes in their unmatched style. These exceptional doors have been carefully crafted to offer an authentic, period appearance. They are a charming addition to your home, truly enhancing the natural character.
Residence 9 front doors are exceptional in all areas. Their thermal performance is underpinned by a clever 9-chambered design which combined with the composite door, creates a brilliant thermal performance, superior to nearly all other double glazed doors.
Residence 9 front doors are the perfect choice for when your Slough home needs outstanding performance combined with unbelievable and authentic style.
Take a look at the Residence 9 door page here.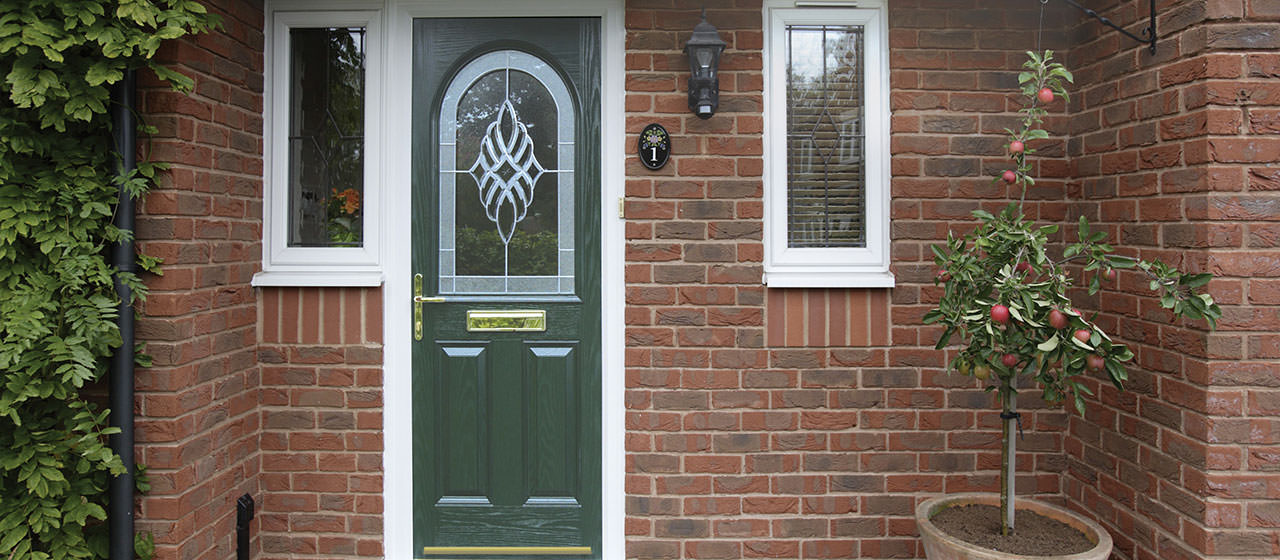 Front Door Prices Slough
You can get an instant quote for any of our front doors using our online door designer, however, we also have a friendly team on hand to talk to you about your front door requirements in Slough. Get in touch and see how we can help you at Affordable.
Wednesday, 27 February 2019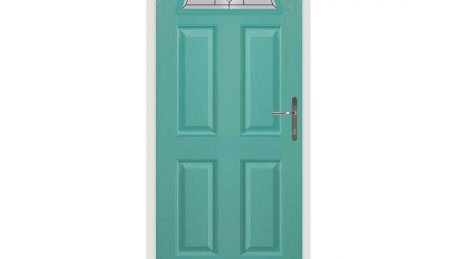 Protect Your Berkshire Home with Composite Doors
Composite doors are the ultimate Berkshire home improvements for creating a secure entrance to your property.
You will benefit from superior home protection, combined with excellent insulation and outstanding aesthetics.
Composite doors are a stunningly beautiful option for your Berkshire front door as they come in so many styles and designs, as well as colours.
Affordable Windows and Construction work with a variety of double glazing manufacturers to ensure our customers benefit from the very best choice.
You can find your perfect combination of looks and features in our extensive range.
Read our guide to composite doors in Berkshire to discover the benefits of these incredible front doors.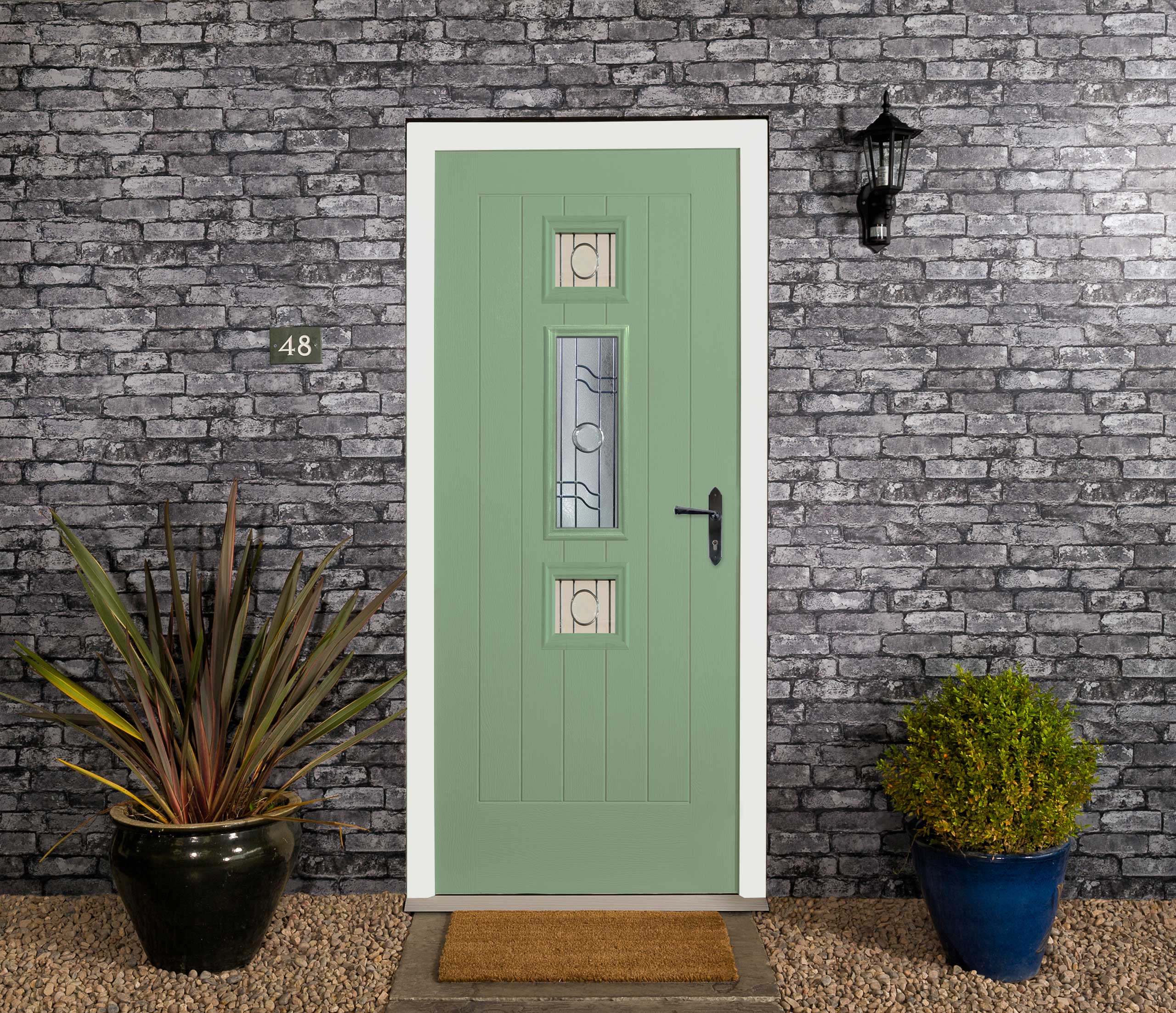 Security Focused Composite Doors in Berkshire
Whichever composite doors you choose for your Berkshire home from our collection, you can count on super security performance.
Our composite doors are constructed from the very best materials and achieve the highest standards. They are durable and robust, making them almost impossible to dent or scratch, never mind forced entry!
Your composite doors will be truly sturdy and rigid, and we then fit them with state of the art, high security locking mechanisms to ensure the very best protection.
In fact, with doors from Affordable Windows and Construction, you can be confident that your new property entrance meets the highest standards. Our doors are Secured by Design accredited. This means that they are capable of achieving the most stringent police preferred standards of security.
You can have complete peace of mind that your home and family are protected with our composite doors in Berkshire.
State of the Art Insulation from Composite Doors
All of our composite doors have a similar construction, featuring a solid core with a durable overlay or skin. This makes them hard wearing and long lasting, but also ensures that they are fantastically insulating too.
Not only will this benefit your home by making it warmer and cosier, blocking out the bitter cold of winter, but it will also create a more relaxing space for you to enjoy.
Our composite front doors offer the most outstanding protection against noise pollution, blocking out disruptive street noise. You can come home to a quieter and more peaceful living space with these stunning doors.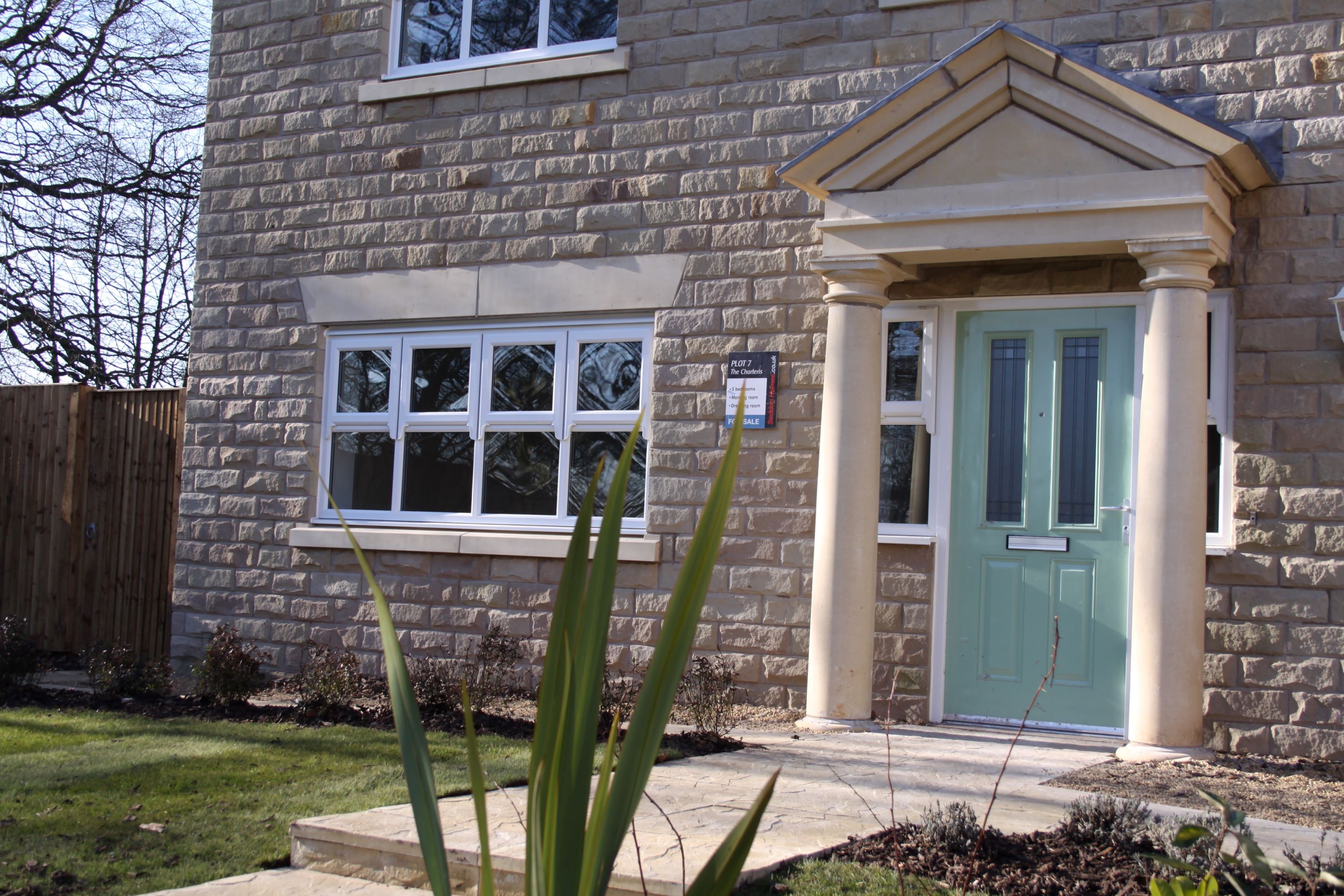 Unrivalled Door Style
Composite doors are the unrivalled replacement doors for when you are looking for the beauty of timber and the performance and low maintenance of uPVC.
These stunning doors have an authentic wood effect finish to them, that is such a close replication of traditional timber, it is hard to tell the difference.
This timber beauty is enhanced by the modern technology that you would expect from uPVC, ensuring that you get the very best of both worlds.
Our composite doors come in a range of styles and designs, all of which can be tailored to your tastes with colour and door furniture. We offer a variety of options, depending on the door you choose, including letterboxes, spy-holes, door-knockers and other hardware features.
Door Stop Composite Doors
Our beautiful Door-Stop doors are simply exquisite, coming with an extensive range of colour finishes and decorative glazing so that you can create truly unique style for your home.
They are available in a range of styles including the Long Bar handle suite, the contemporary Square suite, the sophisticated Bow Handle suite and the traditional Classic suite. Ideal for replacement doors in modern homes through to period properties.
The Door Stop range is high performance as well as exceptionally designed, creating an amazing entrance in your Berkshire home.
Solidor Composite Doors
Solidor doors are one of the most versatile designs available, as they can come in almost any size to meet your needs. You can even opt for sidelights to create a brighter and more naturally lit hallway.
Our Solidor collection is manufactured using the very latest innovations in double glazing, achieving an impressive all-round performance, and every door is up to 10% thicker than other composite options.
The colour finish runs through the door, rather than being laid upon it too, giving you a more natural effect to your new door.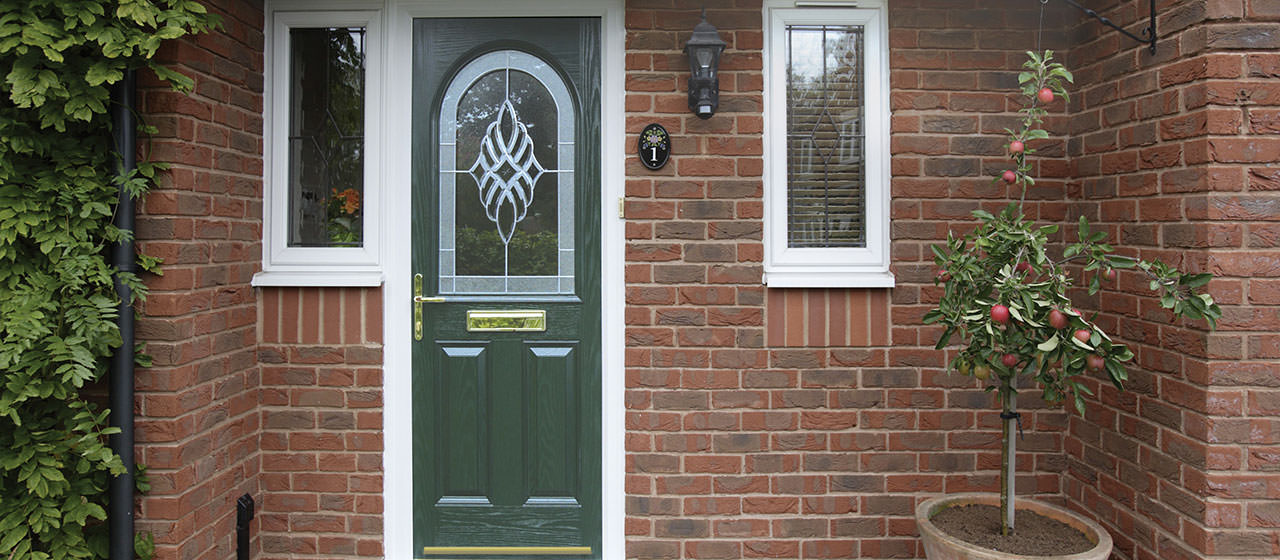 Endurance Composite Doors
The Endurance composite door is renowned for its excellence in durability. This incredibly robust door can withstand all weathers, never warping, rotting or fading, unlike timber.
The Endurance range comes in a variety of styles and colours, designed to complement the character of your property, new or old, and to enhance its beauty. You are sure to find a match for your home in this collection of composite doors.
Composite Doors Prices Berkshire
Composite doors prices in Berkshire are simply superb when you choose Affordable Windows and Construction as your installer.
Our fantastic variety of options ensures that we have prices for every budget as well as composite doors for all tastes.
Get your tailored quote online, or get in touch to find out more.